A great children's board-book, "I LEGO N.Y." by designer and illustrator Christoph Niemann, will delight children and adults alike. The book, filled with abstract images of representations of New York City created with LEGO bricks, is sure to charm kids and foster their own imaginative building ideas.
Below is a promotional video for the book.


If your child's a little older, one might consider another of Niemann's books, The Pet Dragon, which introduces 33 Chinese characters by means of a clever adventure filled story of a young girl in search of her runaway pet dragon.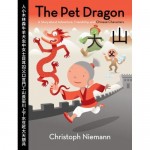 Overall, two fantastic ideas to add to the family children's book collection.
Both are available from Amazon: