"Bear's Busy Family", from the Bear series of children's board books published by Barefoot Books, invites young readers to meet the members of the bear family as they work collectively to prepare for a family members birthday party. Writer Stella Blackstone spins a lyrical tale with rhyming words which dance off the page. Coupled with Illustrator Debbie Harter's fun, imaginative imagery, a young reader will delight in being swept away by this charming little book.
How's the Story
Preschool age children will love the different scenes depicting family members engaged in a variety of creative activities such as baking, gardening, percussion, singing and more. Parents reading the book aloud to their children will instantly pick up on the lyrical quality that flows throughout the book. The story is told from the perspective of a family member, in this case, a girl bear, who describes how each member of her family contributes to a birthday celebration being held later in the day. Also noteworthy is the international flair portrayed in the book's images which contrast greatly from the small town feel attributed to previous Bear stories such as "Bear at Work." The concept of the family tree is offered at the end of the story which will benefit a parent's educational discussion about family connections.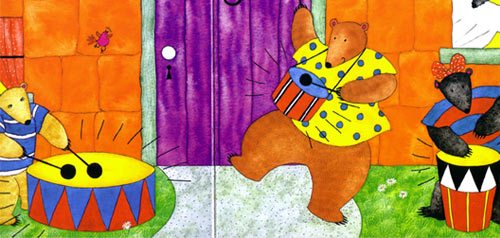 Overall Rating: B
Pros: Illustrations will delight young and old readers alike. Lyrical writing style makes provides for opportunities to introduce concept of rhythm to children. Concept of family tree introduced.
Cons: Not much depth in the story or the characters depicted.
For more information about this book and other books published by Barefoot Books, please visit them online.