Kidorable, a unique kids clothing company best known for its wonderfully creative rain coats and rain boots, has recently released two whimsical new styles, Space Hero and Ballerina. I was sent a couple of samples, a Space Hero raincoat and Ballerina rain boots, to review. In addition, Kidorable has provided me the opportunity to offer you a chance to win your choice of one of their fun and imaginative umbrellas. Read on for the review and giveaway details.
Space Hero Rain Coat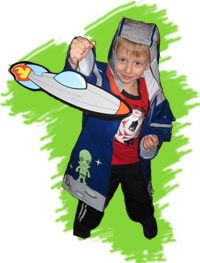 Unlike the typical indifferent reaction kids have when they receive new clothes, Kidorable infuses their products with excitement. My son's eyes lit up when he saw his new "astronaut!!! with aliens!!!" rain coat. He immediately unpacked the coat and put it on. The inclusion of a wooden hanger specifically created for the product style is a nice touch. In this case, a rocket ship which became an immediate part of the adventure. "Whoooosh!"
The Space Hero rain coat has the look and feel of a high quality product. Having previously owned other Kidorable products I can attest to their durability. More importantly, kids love to wear them both outside of the home and inside. For parents, this is a huge win since it virtually eliminates the need to persuade one's children to put on their coats.
Ballerina Rain Boots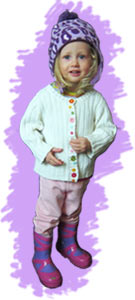 Can a child have a favorite pair of rain boots? What's more can a child have countless adventures when wearing these boots? The answer is an emphatic "yes!!!" My daughter's always been a bit of an adventurer. She loves to try on mommy or daddy's boots and shoes to transform into a big girl. Yet the reaction to her Kidorable Ballerina Rain boots was quite different. She immediately asserted her ownership of the boots for all the world (specifically her brother) to hear. They have quickly become a staple in her wardrobe choices. She loves to spin, jump, and take walks in her boots. She has no qualms simply wearing a t-shirt, shorts, and boots while inside our home because in no uncertain terms "these are MY ballerina boots!"
The Ballerina Rain Boots provide durability, quality craftsmanship and fun all in one beautifully creative little package. The fact that they not only make excellent puddle jumping footwear but also provide countless hours of indoor play makes them an exceptional value.
The Giveaway
Kidorable has a fantastic assortment of kid themed umbrellas. Click Here to see their entire collection.



For a chance to win a Kidorable umbrella of your choice, visit the Kidorable web site and then come back and comment below about which product is your favorite. Also include your umbrella choice.
Extra Entries
For an extra entry, please retweet the following via twitter and leave a comment along with your original comment that you've done so:
Win an insanely cute @Kidorable umbrella of your choice from @CuteMonsterDad http://bit.ly/eVuCXu
You can also obtain an extra entry by "liking" CuteMonster.com and Kidorable on Facebook and leave a comment along with your original comment that you've done so.
Dates and other important information you should remember:
The contest ends at 11pm EST on Sunday, February 6, 2011. The winner will be notified via email or twitter by Monday February 7, 2011. The winner has 24 hours to respond after notification. If no response is made another winner will be randomly drawn.
UPDATE: We have a winner! Congratulations to Jennifer Messner. Thank you to everyone that entered. And thank you Kidorable for providing an amazingly cute prize.