Board Games provide a wonderful opportunity for kids and parents to engage in play time together. Yet finding a board game for young children that captivates their attention can be challenging. Enter Thinkfun, a company "committed to creating products that naturally inspire learning, spark creativity, and build problem solving through play." I had the good fortune to visit Thinkfun and view their products at the NY Toy fair this past February. After I made an inquiry, they sent me Snack Attack!, a spin, match and stack multi-player game for kids 4 and up, to review. Read on for the review as well as how you can enter to win a copy of the game.
How do you play the game?
See below for a quick visual four step explanation provided by Thinkfun: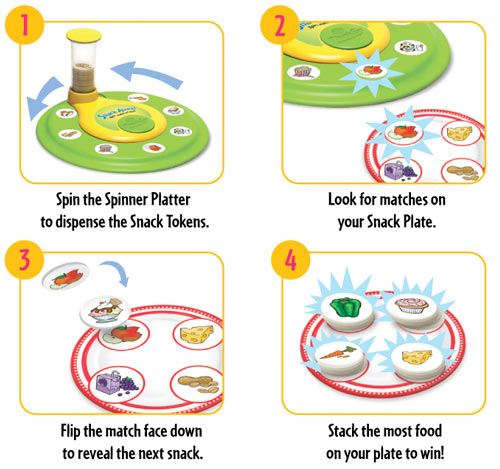 What's the game play experience like?
I'd describe the game play as fun, educational, and quick-paced. The age range starts at 4 years of age which happens to be my son's age. He immediately loved the tactile feel of the spinning platter as well as the ease to operate it. Also appreciated was the easily identifiable food stacking tokens and plates. Made of heavyweight cardboard, the game tokens and plates have a nice sturdy quality about them. The choice of snacks depicted on the coins and plates also provide an educational opportunity to differentiate between a variety of foods. The game can be played on a flat floor surface or on a table. The option to play on the floor can prove effective in eradicating any height issues a young child might experience playing at an adult sized table. Overall, with minimal adult supervision, a child can readily learn the rules of Snack Attack! and begin to play.
And now the Giveaway
Thinkfun has graciously provided an opportunity for one lucky CuteMonster.com reader to win a Snack Attack! game of their own. A retail value of $19.99.
How to Enter
Simply enter a brief comment below about why you love playing board games with the family. That's it. A winner will be drawn at random on March 28, 2011.
For extra entries do the following:
* Follow Thinkfun on Facebook
* Follow CuteMonster.com on Facebook
* On Twitter tweet I want to win a @ThinkFun Snack Attack! game from @CuteMonsterDad http://bit.ly/hvuMV7
Important Dates and Details to remember
Contest open to U.S. residents. The contest ends at 11:59pm EST on Sunday, March 27, 2011. The winner will be notified via email or twitter by Monday March 28, 2011. The winner has 24 hours to respond after notification. If no response is made another winner will be randomly drawn.
Good luck!
UPDATE: The winner of the Snack Attack! board game from ThinkFun is Andrew Bennett. Thanks to every that entered. And thank you ThinkFun for providing a wonderful giveaway.