The image of the swashbuckling adventurous Pirate has always struck a chord with kids of all ages. In recent years, Disney's "Pirates of the Caribbean" has fueled a renewed interest in the genre. A singalong book, "Portside Pirates", aims to captivate young audiences with a vividly illustrated and engagingly sung tale across the deep blue sea.
How's the Story?
The publisher, Barefoot Books, has a consistent track record for celebrating art and story. "Portside Pirates", written by Oscar Seaworthy (great name!), playfully illustrated by Debbie Harter, and musically composed by Marc Collins, springs to life the moment the reader opens the book while listening to the included music CD. This simple tale of a child jumping on board a pirate ship to sail off on an adventure packs tremendous appeal. Being a pirate themed singalong book, the interactivity for parents and kids provides memorable belly laughs too.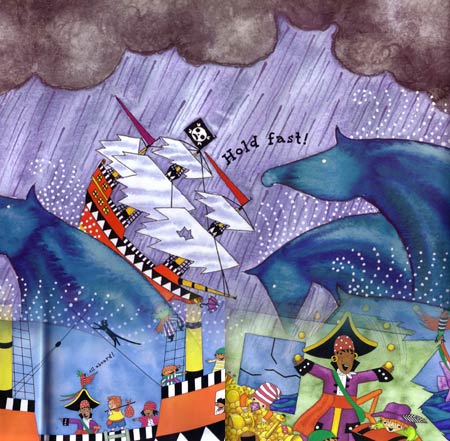 Overall Grade: A-
Recommended for children 3 years and up.
Pros: The rollicking music, imagery and catchy lyrics spark kids imaginations. The book also includes fun facts about pirates including an illustrated breakdown of a pirate ship, the different types of pirate ships, and a bit of history about famous pirates.
Cons: Kids don't always have the patience to wait to turn the page of a book. A minor hurdle to overcome but challenging nonetheless for parents.
For more information about this book and other books published by Barefoot Books, please visit them online.
Watch the music video of Portside Pirates below: