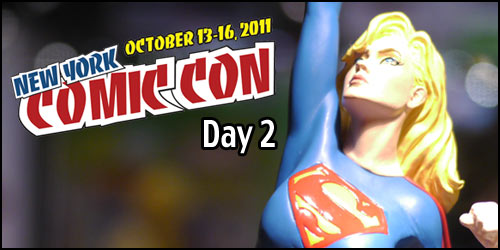 My second day at the 2011 New York Comic con was radically different from the first. I arrived mid-afternoon to attend a series of panels rather than roam the main show floor. Since many intriguing panels were scheduled concurrently, I was forced to choose wisely. I decided to partake in four panels that were completely distinct in subject matter from one another.
The first panel dealt with Crafts. Bonnie Burton, author of The Star Wars Craft Book, was on hand to lead us through a hands on project to make and Admiral Sackbar puppet. I may well have been the least experienced craft maker in the room but Bonnie's enthusiastic presentation made it a fun experience for everyone regardless of their skill level.
Second up was a panel called Marvel: Amazing Spider-Man. Editor-in-Chief Axel Alonso, Senior Editor Steve Wacker and other high profile members of the Marvel creative team were assembled to provide updates on Spider-Man as well as other characters based in New York. An all new series of comic books for Daredevil, Carnage, Punisher and Venom were announced to commence later this year. The tone of the panel was much like a raucous pep rally to reassure the faithful that Marvel's greatest days are ahead. There was also an abundance of trash talk directed towards DC Comics, Marvel's main competitor. Recently DC rebooted 52 of their main characters. As one Marvel team member stated "Marvel doesn't need a gimmick, we just tell great stories."
The third panel aimed to provide tips for digital artists. The panel, called Coloring: Digital Techniques, gave insight to the methods used by professional comic book colorists. Unlike the previous panel, there was no opportunity to try out any of the techniques taught by the instructor. Consequently, there was a steady stream of departures before the panel had concluded.
My final panel of the day was the Indie Toymakers Roundtable: Turning Characters into Toys. Toymakers such as KidRobot, Shawnimals, I Heart Guts, and Happy Worker were on hand to provide their own unique experience in the toy business including how to market one's toys. Sadly, the secrets to turning one's sketches into something you can hold was not covered due to time constraints.
Below are images from Day 2 at the 2011 New York Comic Con. Click on any of the images to view a larger size in the image gallery.
In case you missed it: