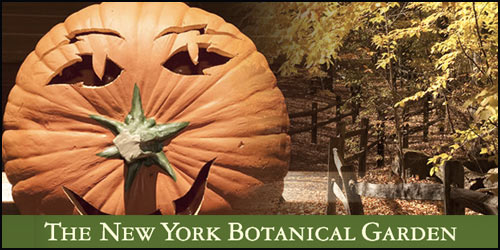 It begins with a gentle whisper of a breeze. A leaf spirals down to the ground in a playful flight of fancy. As time passes, colors fashioned in rich vibrant hues transform nature's landscape into a captivating seasonal tapestry. Autumn has arrived at the New York Botanical Garden bursting with excitement. This Fall promises to be one of the most memorable seasons yet at the historic oasis in the Bronx.
Celebrating its 120th year, the Garden continues its mission to educate, inspire, and cultivate an appreciation for the wonders of nature. From the quiet exotic beauty of the Flowers of Japan found in the Enid A. Haupt Conservatory to the giggle inducing fun of the Haunted Pumpkin Garden, adventure awaits adults and children of all ages.
Fall Flowers of Japan

September 17th – October 30th
Enter the Enid A. Haupt Conservatory and be transported to the flowering wonders of Japan. Behold the breathtaking sculpture of internationally renowned artist and ikebana master Tetsunori Kawana created from reclaimed natural materials from the Garden. Witness the display of Kidu – Japanese chrysanthemums -nurtured to grow in a myriad of shapes and styles. Learn the art of Ikebana – the Japanese art of flowering arranging. Then visit the Shop in the Garden for unique Japanese gifts and Bonsai trees.

The Haunted Pumpkin Garden

October 1st – October 30th
Experience Halloween fun every day in October in The Haunted Pumpkin Garden. Hundreds of intricately carved pumpkins are sure to delight. Parades, parties, master pumpkin carving weekends led by Ray Villafane and Michael Natiello, as well as spooky nighttime adventures bring thrills and chills to remember.

Thain Family Forest Dedication

November 5th to 6th and 12th to 13th
The remarkably enduring beauty of the Thain Family Forest has welcomed visitors for over a century at the Garden. A concerted 3 year restoration effort culminates in this unforgettable two weekend dedication to the Forest filled with activities such as tours, canoe trips and more.
This merely represents a few highlights of the many tantalizing events happening this Autumn at the Garden. You'll find Greenmarkets, Cocktail parties, Educational series, Tours, Musical Performances, and more. Visit the New York Botanical Garden this Fall and embrace a growing tradition.