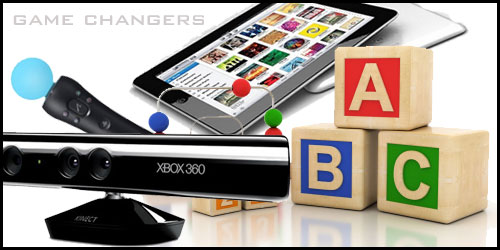 The video game entertainment industry has established a firm foothold in homes worldwide. A popular video game release can potentially reap staggering financial rewards for an entertainment software company at levels that eclipse even the most popular movie franchise. From its nascent days in the early 1970s as a primitive curiosity to the current 21st century myriad of phenomenal immersive experiences, the influence of video games on world culture has been unprecedented. Indeed, hundreds of studies have been written both pro and con about the developmental impact on children. And now with the advent of tablet computing, the pervasiveness of a video game oriented society will inevitably increase. As parents, how do we respond to these changes? And what does the future hold?
I decided to reach out to an industry veteran, Ray Padilla, Editor of RPAD.TV, to get his take on video games and their impact on kids as well as the future of the electronic entertainment industry.
CM: How early is too early an age for kids to partake in using interactive media such as video games?
RP: I don't think there is a number that's too early. A lot of it depends on the child and his or her understanding of reality. More of it depends on the parents and the supervision they provide. It's really a case-by-case basis.
CM: Does the video game industry and retailers have an obligation to provide better safeguards for parents in helping them decide what's appropriate for children of different age groups?
RP: I'm a big fan of the ESRB and the resources the organization provides. It does a good job of guiding parents towards games they'll find appropriate for their children. Most major retailers do a decent job at displaying the ESRB ratings and guidelines. Unfortunately, there are some retailers that do a poor job at displaying the information. In big shops and small shops, I've seen sales reps flounder when trying to explain the difference between different ESRB ratings. The system itself is fantastic — better than the equivalents in music or movies — but the execution could be better and that's a problem on the retail side.
CM:How do you think the explosion of tablet usage by young kids will drive the electronic entertainment industry? Can you envision the kids market for tablet and smartphone devices surpassing the console market in general?
RP: Tablets have absolutely changed the market and I see them becoming more popular than traditional consoles. Using the iPad 2 as an example, the versatility and convenience of tablets can't be beat. From playing games to watching movies to reading digital comics to reading books to listening to music, tablets are brilliant entertainment devices that are great for kids that want to devour all types of content.
Tablets are getting cheaper, while console prices are the same or getting higher. That will be a huge consideration for families.
CM: With the growth of devices such as Microsoft's Kinect, is the industry moving more towards fully interactive games or is it still considered a niche market?
RP: With the millions of Nintendo Wii consoles and Microsoft Kinect units sold, I don't think it's accurate to call it a niche market. That said, will motion be a big deal two generations from now? Who knows? Keeping the burgeoning tablet business in mind, I see traditional game consoles continuing to offer the best video game experiences out there and that still requires a game controller. For general consumers and casual gamers — a lot of the people that bought Wiis and Kinects — tablets should be more popular choices over the next few years.
CM: Do you have any predictions for 2012 for the electronic entertainment industry as it pertains to children?
RP: Tablets will become even more family-friendly in 2012, both in terms of software and services. It's kind of like how the home PC evolved, though far more accelerated. When people first started buying PCs for home use, they were primarily devices used by Dad to do some work. This evolved into PCs becoming devices used by the whole family for both work and play. Tablets are so versatile and powerful, making them the perfect electronic entertainment device for the family.

Raymond Padilla has been writing about consumer electronics and games since 1996. He can be reached at http://www.rpad.tv/.
What do you think the future holds for video games as it pertains to kids?