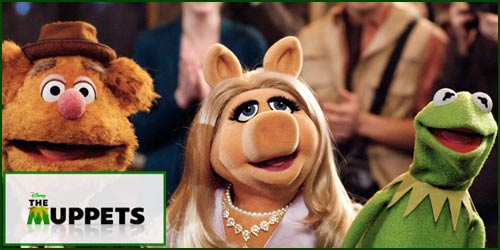 Upon first learning about the 2011 release of The Muppets, I was struck with mixed feelings of childlike joy and dread. Being given the chance as a parent to introduce my children to Jim Henson's lovable band of characters appealed to me immensely. Yet Hollywood's historical penchant for recycling beloved franchises based on profit motive rather than creative inspiration gave me pause. Would The Muppets, a musical comedy produced by Disney starring Jason Segel and Amy Adams, capture the magic of the original?
How's the Story?
The storyline is pretty straight forward. Along with three avid fans (which includes a new muppet, Walter), the muppets are called upon to reunite in order to save their old theater from a greedy oil tycoon. From a nostalgic standpoint. any moviegoer of a certain age will instantly connect with the whimsically mischievous sight gags, the over the top musical numbers, and overall wholesome quality that embodies a Muppets production. It's obvious that Disney took great pains to attempt to produce a movie that would satisfy the original fans as well as appeal to new ones. And yet, upon further reflection, I couldn't help thinking that children who were unfamiliar with the Muppets were somewhat cheated by this new story. Based on my own observation of kids reactions in the movie theater audience, many of the comedy bits fell flat. As a result, there were various points in the film which plodded along.
How are the visual effects?
If one is expecting a CGI spectacle, I would advise you to save your popcorn money. For the crowd that grew up with The Muppets as well as current Sesame Street aged audience members, the colorful felt and foam puppets remain captivating. I'm unclear how the teenage audience will respond to the movie given their steady diet of CGI and 3D oriented fare. Yet given the chance, I suspect they'd enjoy the movie as well.
The Muppet Movie is rated PG. Can I take my younger children to see it?
As a parent, I was hard pressed to find anything in the movie particularly inappropriate for children of any age. Still, there's some mild violence as well as a few dark scenes in bars that might require parental guidance. Perhaps the cut off should be no children younger than 3 years of age.
Any opportunity for Bathroom Breaks?
As mentioned previously, the movie has several moments which tend to drag. The entire section of Miss Piggy in Paris would be an ideal break as would the whole Party for One musical section.
Overall Rating: B+
Recommended for kids 3 and up with the expectation of parental guidance.
Pros: Kermit the Frog, Miss Piggy, Fozzy Bear and all the rest of the Muppets are back. Wonderfully wholesome and mischievous. Maniacal laughs. True family entertainment.
Cons: New fans simply won't get all of the humor. More Muppet comedy skits were needed to educate new viewers. The Nostalgia factor of "Rainbow Connection" can make a grown man misty eyed (not me…no really.).
Watch the official "The Muppets" trailer: