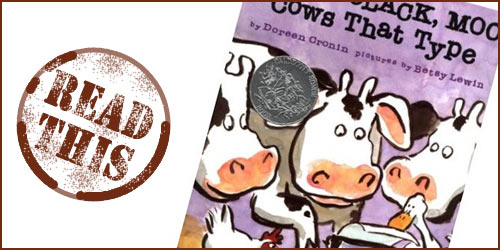 A children's book generally should not prompt one to think about topics such as collective bargaining and worker strikes. Yet that's just what came to mind when reading CLICK, CLACK, MOO, Cows That Type by Doreen Cronin. A tale of cows who decide to halt milk production until their demands for electric blankets are met by Farmer Brown.
How's the Story?
Whether intentional or not, CLICK, CLACK, MOO: Cows That Type with its whimsical illustrations by Betsy Lewin joins the ranks of other tales about workers uniting to improve their plight. Cows, usually depicted as dumb farm animals, are portrayed as a clever organized group making use of cunning typewriter written notes to persuade Farmer Brown to meet their demands. Farmer Brown's visual expression of frustration after reading each note adds to the comedic effect as the plot develops. As a whole, the story flows at a brisk yet compelling pace.
Overall Grade: A-
Recommended for children 3 years and up.
Pros: Cows, Farmers, and Typewriters couldn't be much more fun then portrayed in this book.
Cons: It's an open question whether this children's book intended to spark discussions about workers rights by means of an allegory and yet it does.
Purchase book at Amazon: