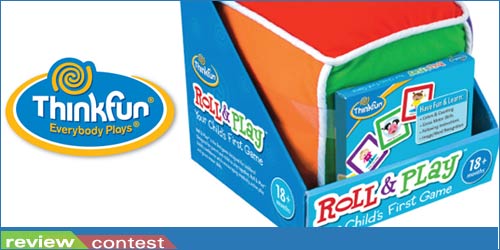 Trying to introduce toddlers to multiplayer gameplay can be an exercise in futility. More times than not, a toddler will not fully grasp the concept of the game and instead decide to create their own fun to the frustration of other players. ThinkFun, an educational game maker, has decided to take on this challenge by debuting a game called Roll & Play designed specifically for toddlers. Since my children fell into the range of the game's target demographics, I decided to test out Roll & Play in a real world environment, sibling rivalry and all.
How do you play the game?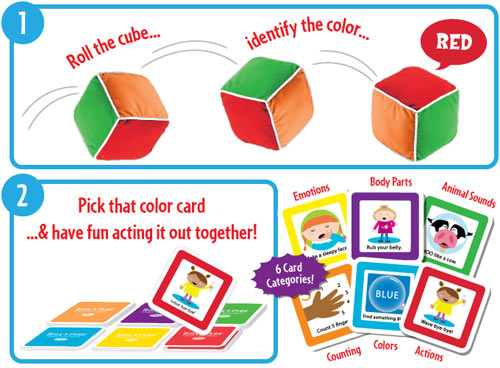 What's the game play experience like?
The use of a big colorful plush cube appeals to even the most indifferent player. Children immediately gravitate to the soft plush geometric shape wanting to pick it up and toss it around potentially resulting in unplanned aerial acrobatics. In addition, since there's but one cube, it can spark spirited verbal exchanges of "Mine!" No mine!" followed by a reenactment of a mixed martial arts championship fight. My advice would be for a supervising adult to hang on to the plush cube until explaining the rules of the game in full to children. Once kids actually play the game any squabbling becomes quickly replaced by giggles and joy.
I was impressed by Roll & Play's variety of game play including opportunities to identify animals and make their sounds, engage in counting coupled with physical activity, color identification, non verbal expression, and more. The patterns and structure of the game lend itself to quick comprehension by all participants. What's more, although the game is targeted to toddlers, older children ages 4 and up will also find Roll & Play captivating. My own kindergarten aged son loved playing with his younger sister in a rare moment of peaceful coexistence fueled by fun.
And now the Giveaway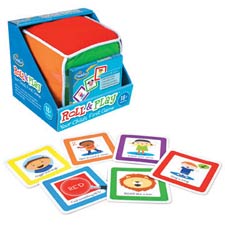 Thinkfun has graciously provided an opportunity for one lucky CuteMonster.com reader to win a Roll & Play game of their own. A retail value of $19.99.
How to Enter
Simply enter a brief comment below telling us what's your favorite family game. That's it. A winner will be drawn at random on May 24, 2012.
For extra entries do the following:
* Follow Thinkfun on Facebook
* Follow CuteMonster.com on Facebook
* On Twitter tweet I want to win a @ThinkFun Roll & Play game from @CuteMonsterDad bit.ly/K2al4M
Important Dates and Details to remember
Contest open to U.S. residents. The contest ends at 11:59pm EST on Wednesday May 23, 2012. The winner will be notified via email or twitter by Thursday May 24, 2012. The winner has 24 hours to respond after notification. If no response is made another winner will be randomly drawn.
Good luck!