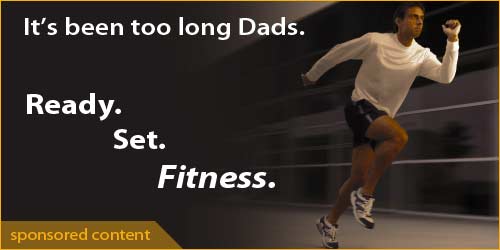 It's not uncommon to hear new mothers talking about their "before-baby-body", as well as their plans to get back to their pre-birth weight once their little bundle of joy has been delivered into the world. What is somewhat less common is to hear this scenario told from the perspective of the Dad.
Having children is obviously a full-time commitment; it is also one which manages to catch men unawares as well as women – as a result many fathers of new-born babies also find themselves struggling to keep up the level of fitness they had before their child was born. Recapturing this fitness can be a challenge for even the most determined dads; it is not impossible, however, it does require a little more consideration than a new pair of trainers and joining a gym.
Below are some top tips for fathers to take on-board when attempting to get themselves in shape.
Timing is everything – as most fathers will already be fully aware of, finding the time to work out can be the biggest battle in the war on flab. This means that exercising your organisational skills is just as important as figuring out which exercises to do! Although this may seem a little daunting initially, all it really requires is for you to figure out exactly when would be the best time for you to snatch 30-45mins. Whilst this may sound relatively easy, it is doing it three or more times a week that's the challenge!
Top tip: Make sure you sit down and plan out your intended exercise routine.
Don't push too hard – one of the most common traps that many fathers fall into when trying to get back into the habit of exercise is trying to do too much too soon. This is particularly true of dads who throw themselves into a routine at the gym that they are unable to handle, and end up doing more harm than good; as a result of this, there has been resurgence in the number of injuries complaints, ranging from sprains and trains to head injuries. It's also worth remembering that you're no good to your family if you're spending the majority of your time recovering on the sofa!
Top tip: Slowly and gently build up the amount of exercise you are undertaking.
Help is at hand – a problem shared is a problem halved. With that in mind, it is worth remembering that are not alone in wanting to improve your health. There are plenty of other dads and people of a similar age who can provide much needed moral support. One of the best ways to obtain this is by joining a local sports team or Sunday league; this will enable to "kill two birds with one stone" by allowing you to socialise and get fit simultaneously!
Top tip: Join a local sports club or team to socialise with other dads.
Family fitness – fitness and family need not be mutually exclusive. It's never too early to begin planning which activities you are going undertake with your kids. Hiking, climbing, cycling and kayaking are all great ways to stay in shape whilst spending time with your kids and enjoying the great outdoors!
Top tip: Include the family in your fitness regimes by including outdoor activities.
Nathan Clarke is a guest blogger working on behalf of UK Legal Specialists; he has an interest in families and fitness and writes about the best ways for dads to get back into shape after having children.