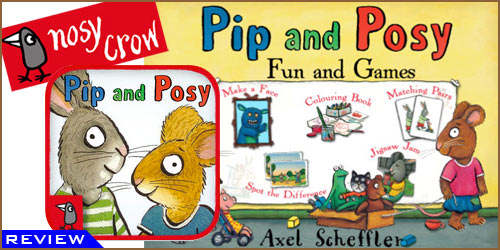 Pre-school aged children familiar with the characters found in the Axel Scheffer's popular picture books will feel right at home playing Nosy Crow's latest iPhone/iPad App titled Pip and Posy: Fun and Games. A delightful collection of engaging activities that capture the whimsical nature of Pip and Posy's world.
How's the game play?
It's hard to find fault with Nosy Crow's latest effort. With activities such as coloring, flip cards, puzzles, finding differences and even the fun of making faces via the camera on the iPad or iPhone, Pip and Posy: Fun and Games provides substantial replay value. Each of the characters offers words of encouragements to kids as they partake in any of the included games. The user interface for the games is generally intuitive but might initially require some guidance from a parent. There are also different levels of difficulty available for certain games which comes in handy when an older sibling might want to play as well. In short, Nosy Crow's Pip and Posy: Fun and Games at a cost of $2.99 is well worth the investment. It's a quality app that will engage children creatively, develop problem solving skills, and provide plenty of giggles too.
Overall Rating: A-
Recommended for kids ages 2 to 5.
Pros: Great replay value. Offers a variety of challenging game play. Endearing illustration, characters, and voice acting.
Cons: User interface at times requires adult supervision.
Pip and Posy: Fun and Games Official Trailer:
Hey, we're giving you a chance to win a Free Copy!
The good folks at Nosy Crow were kind enough to provide me with a redeemable iTunes code to giveaway so one lucky reader can have their own copy of Pip and Posy: Fun and Games.
In the comment field below, mention what kind of games you think toddlers like to play most on a Tablet or Smartphone type device. (i.e. drawing games, puzzles, etc.)
Extra Entries?
Follow CuteMonster on Facebook.
Mention it in the comment field below.
That's it! Good luck. Winner will be randomly drawn on June 29, 2012.