A child's mind has a wonderful capacity for vivid flights of imagination. A shadow's not simply a shadow but a giant robot from Planet X or maybe a mischievous bunny rabbit from the enchanted forest. Location as well as the time of day work in concert to prompt the types of imagery a kid will experience. Such is the case in children's book "Ruby's Sleepover" written by Kathryn White and illustrated by Miriam Latimer.
How's the Story?
"Ruby's Sleepover" tells the story of two young girls, Ruby and her best friend Mai, having a unique sleepover that takes place outdoors in Ruby's backyard where they've set up a camping tent for the evening. As they unpack in preparation to settle in and go to sleep, each of the girls reveal assorted special items to one another that eventually will play an important role in the night's events. Effectively utilizing a playful cadence and rhyme in addition to whimsically illustrated imagery, "Ruby's Sleepover" unfolds with each girl conjuring up imaginative explanations as well as clever solutions to the larger than life visitors they encounter during the evening.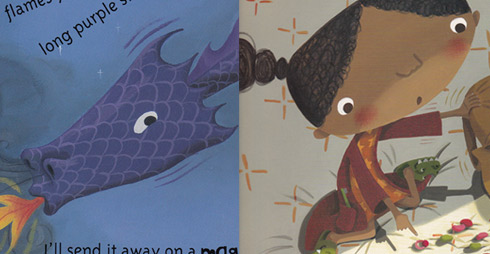 Overall Grade: B+
Recommended for kids 3 and up.
Pros: Excellent use of words and imagery to move the story along.
Cons: A bit short. Mai seems to fall asleep too easily given the fantastic events unfolding outside the tent.
Barefeet Books provided CuteMonster.com a free copy of the book for review purposes. All opinions expressed in this review are the reviewer's and not influenced in any way by the company.
Purchase the book from Amazon: