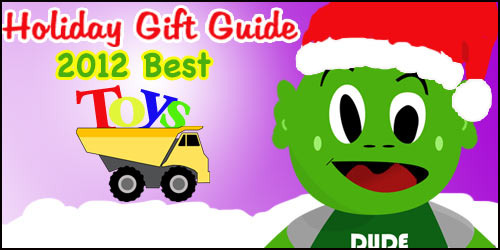 The holiday season is back in full effect which means Toy buying stress for Moms and Dads is on the rise. Yet lucky for you, help has arrived just in the nick of time. Especially if you're buying for kids ages 12 months to 4 years old.
I've put a list together of relatively inexpensive toys which my children and their peers have used extensively. Details about the toys as well as any pertinent information(age appropriateness, etc.) have been provided to remove the guess work out of the decision making process.
The List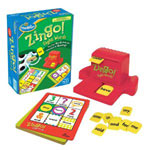 Zingo! Sight Words by ThinkFun
Educational and fun. Zingo! Sight Words takes the game premise of Bingo, replaces the numbers, and incorporates sight words which are words most frequently used in the English language. Based on my own official game testers aka my children, Zingo! Sight Words offers up challenging yet accessible game play that encourages older kids to help their younger siblings learn to read. Appropriate for Pre-K to 1st Grade.
Buy it on Amazon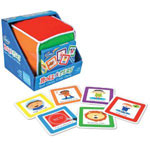 Roll and Play by ThinkFun
The use of a big colorful plush cube appeals to even the most indifferent player. Children immediately gravitate to the soft plush geometric shape wanting to pick it up and toss it around. The patterns and structure of the game lend itself to quick comprehension by all participants. What's more, although the game is targeted to toddlers, older children ages 4 and up will also find Roll & Play captivating. Appropriate for ages 18 months and up.
Buy it on Amazon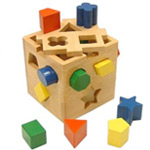 Melissa & Doug Shape Sorting Cube
Learning shapes and colors offers a wonderful sense of discovery and achievement for a young child. As a parent, I've enjoyed observing the wheels turning in the minds of my children as they were fully engaged in the challenge of sorting out shapes. This shape sorting cube is made of wood and well constructed. Each shape is vibrantly colored and easy for a child to grasp. The added value to this product is the evolution of the child's interaction with the shape sorting cube. In essence, the toy offers them something new as their minds develop. A great choice for an educational toy. Appropriate for ages 2 through 4 years of age.
Buy it on Amazon.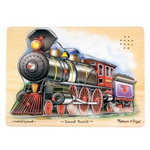 Melissa & Doug Train Sound Puzzle
If your child loves trains this is an ideal puzzle. It's well constructed with handcrafted pieces. Best of all, when your child completes the puzzle it rewards him with trains sounds. As a parent, I appreciated the opportunity to work hand and hand with my son in solving the puzzle. It easily lends itself to learning shapes as well as matching colors. And as mentioned previously, the reward of hearing the authentic trains sounds acts as an incentive. A fantastic learning toy that provides quality parent child interaction. Be aware that since the puzzle is constructed of wood, it is relatively heavy and could cause injury from being dropped from a certain height. Appropriate for ages 2 through 4 years of age. Buy it on Amazon.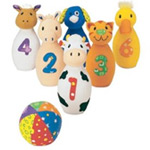 Earlyears Baby Farm Friends Bowling
Six numbered plush Barnyard animals pins along with a plush ball that either jingle or rattle softly. Provides countless opportunities to develop motor skills, color identification, word formation, and of course interactive gaming. Great for kids 18 months and up.
Buy it on Amazon.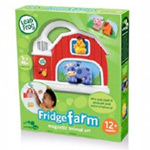 LeapFrog Fridge Farm Magnetic Animal Set
Creatively inventive magnetic animal set that plays songs to teach children about animals. A child can make various combinations of animals prompting the device to sing a tune, for example a duck cow "You've made a match, look what you've found, you've made a match hear a duck cow. A duck cow? quack moo. Silly!" Overall a fun device. Sound levels are adjustable. Just be aware that the pieces are easy to lose. Ideally for ages 12 months and up. Close parental supervision is advised. Younger children might want to "snack" on the animal pieces so be sure to pay close attention.
Buy it on Amazon.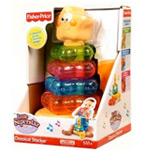 Fisher-Price Little Super Star Classical Stacker
Basically a well made stacking toy for infants to toddlers. Textured colored translucent stars of different sizes are stacked. Each time a child places a star, the toy rewards them with illumination, a vibrant noise, and music(Five different songs, three classical and two popular children's standards). Make sure you buy batteries, they're not included. Children are captivated by the illumination. The textured stars help to develop the tactile senses as well as provide grip for children to throw the stars at their parents(Don't say I didn't warn you). A great toy to distract the kids for a few minutes while a parent needs to attend to other tasks( breakfast, lunch, dinner, sanity break, etc.). The manufacturer recommends this toy for 6 months and up, but I'd opt for 9 months and up when a child has a greater command of sitting with balance. Buy it on Amazon.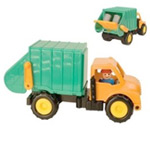 Garbage Truck by Battat
This is a durable toy garbage truck which has provided countless hours of fun for my son and daughter. It has a loading compartment in the back of the truck to place a couple of toy garbage cans. This also inadvertently serves as a neat little compartment for kids to carry smaller items(smaller trucks, blocks, etc.) on the go. In our home, this truck has been thrown, crashed into walls, dropped from tables and more and yet it has remain relatively unscathed each and every time.. If you're seeking an all around dependable toy truck that can endure the rough playing habits of a typical toddler, it's worth a look. Appropriate for ages 12 months and up. Buy it on Amazon.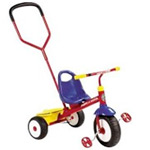 Radio Flyer Deluxe Steer & Stroll Trike
A great little tricycle for toddlers. Makes use of a push bar which a parent can actually steer to help one's toddler navigate and move along smoothly. This particular feature is especially helpful for toddlers who are not yet capable of peddling and steering on their own. The assembly of the tricycle is a bit cumbersome but well worth the effort. The other minor grievance is the clip used to hold in the steering bar. If your child tends to run and push the tricycle with his/her feet rather than peddle there's a chance he/she will kick loose the holding clip which would not allow a parent to steer the tricycle. Great for 2 to 4 year old. Also has a storage compartment for essential cargo(juice boxes, dinosaurs, etc.). Buy it on Amazon.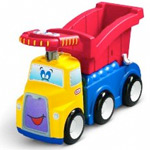 Little Tikes Handle Haulers Haul and Ride
One of the most versatile riding toys you can purchase for your child. It's a riding toy, a hauling toy, and a pushing toy all rolled into one. Also fun are the sounds of the buttons on the steering wheel. Your child can honk an authentic sounding truck horn or can back the truck up with the common beeping noise from a big rig. He/she can even start the ignition. The sounds alone spark the child's imagination and entice the child to partake in the world of operating a "Big" truck. The wheel can be pulled out and act as a pulling handle. The back of the truck converts from dump truck to riding toy. This particular feature is great but requires an adult to make the change. The clips that convert the truck to riding mode are slightly difficult to engage. Overall, my son had enjoyed this product for almost 3 years. It has a tremendous amount of value since the use of this truck grows as your child develops. I highly recommend this toy. Appropriate for ages 18 months to 3 years of age.
Buy it on Amazon.
Happy Holidays Everyone!