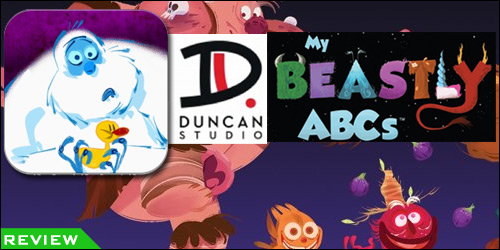 One of the key elements of a Storybook app should be to visually captivate an audience. My Beastly ABCs by Duncan Studios not only manages to capture the imagination of children but also offers an educational fun experience that kids will love to explore. Created for the iPad by renowned artists and animators as well as featuring narration by actor Jim Dale, My Beastly ABC should quickly become a kids Storybook app favorite.
Some highlights from Duncan Studios' description of My Beastly ABCs:
39 separate, dazzling pages 
•Hide and seek with the boogie monsters in the dark

Fight off a bully with the aid of a jackalope

Play ring toss with a unicorn

Play chase with will-o-the-wisps. It's pure magic!

Read and learn about each of the beasts' unique characteristics and place of origin 

This unparalleled interactive storybook provides endless hours of entertainment through its charming storyline, vivid and colorful animations, whimsical designs and engaging interactions.
Beautiful HD illustrations created by world renowned artists

Listen to Jim Dale read you the story, or read the story yourself

Enjoy engaging and fun animation on every page

"Interactive" mode – allows the user to control the story and engage in playful activities

"Auto Play" mode – automatically plays the story like a short film

"Chapter Menu" – allows the user to easily jump to favorite scenes

"Index Menu" – provides fun, kid-friendly monster facts and descriptions
In testing My Beastly ABCS with my own children, I can report they were immediately engaged and delighted to discover opportunities to interact with the story as it progressed. I also appreciated the nuanced approach taken by the developers at Duncan Studios to inject educational elements as the story unfolded. In addition, kids will love to jump around in the story to view their favorite beasts. Parents can guide their kids to explore the other beasts more closely as well to enhance letter recognition. Overall, My Beastly ABCs provides just the right balance of fun, education, and wonder. I highly recommend it
Overall Rating: A-
Recommended for ages 4 and up.
Pros: Visually compelling. Great narration. Subtle but effective educational components.
Cons: If you have an early iPad model, the transitions from page to page can drag.
View the promotional video for My Beastly ABCs: