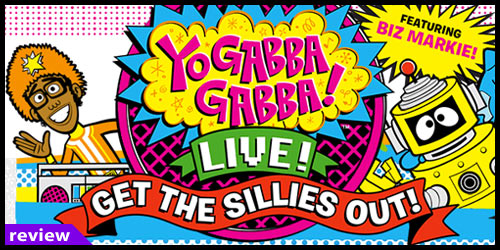 I'll be the first to admit that I didn't understand the hype attributed to kids show "Yo Gabba Gabba". After all, the costumed characters seemed like a retro throw back to the psychedelic Sid and Marty Kroft children's shows of the 1970s such as "H.R. PuffnStuff" or "Sigmund and The Sea-monsters". Despite my own offspring liking "Yo Gabba Gabba" which they demonstrated with their giggle ladened dancing, I paid no mind to it. As fate would have it, this past weekend I was given complimentary tickets to review the "Yo Gabba Gabba Live!" touring show. Let's just say it's difficult to not crack a smile when your kids are moving and grooving to wiggle, wiggle, wiggle.
During the pre-show, a hypnotic mix of instrumental music flowed throughout the theater as families milled about finding their seats. The lights dimmed once the crowd settled giving way to a burst of color, sound, and confetti. It didn't take long for the audience to rise to their feet. Hordes of kids were dancing in their seats and the aisles. Each musical number was an excerpt from the television show which translated into an instant familiarity that excited the children. Squeals of "I know this song!" could be heard as each number began to play.
To my surprise, this popular quirky children's television show which I too easily dismissed at home was in fact well suited for an enthralling concert experience led by the crowd pleasing DJ Lance. Unlike typical children's touring show fare, Yo Gabba Gabba Live! delivers the fun for kids of all ages.
For concert information and show dates visit the Yo Gabba Gabba Live! web site.
Official "Yo Gabba Gabba Live!" Show Highlights