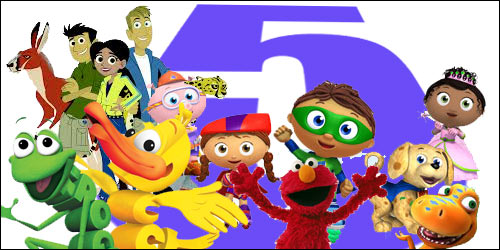 Educational television programs for young children can prove to be invaluable for both kids and their parents. Not having to rely on any television station's program schedule for kids to view their beloved shows improves the value aspect exponentially. Enter online streaming services such as Netflix and Hulu Plus which for a relatively inexpensive subscription price of about $8 per month can provide your kids with the shows they love at any time during the day. Given the vast amount of online kids shows currently available on these services, we've selected the top 5 shows which possess the right mix of entertainment and education.
Super Why
From Angela Santomero, the creative force behind "Blues Clues", Super Why focuses on the power of reading. Whyatt Beanstalk and friends all join forces to solve problems in their own lives by helping unravel similar problems found in story books. In other words, they look to a book to search for solutions with a combination of critical thinking and reading comprehension.
Word World
The power of word building has never been so fun. Animal characters who themselves are also cleverly animated words work together to discover new ideas, places, and things by way of combining letters to build words. It's a captivating show that will have kids giggling in delight as they piece each letter together to see what it forms.
Dinosaur Train
A perfect blend of science, fun, and education embodied in the engaging world of dinosaurs. Did we mention there's a train? Each trip Buddy the T-Rex and his pteranodon family travel on the dinosaur train offers up new discoveries about these exciting creatures. It really inspires the idea that science can be an adventurous endeavor. Each show concludes with an actual paleontologist connecting the dots between the new dinosaurs discovered in the story and the world we live in today.
Wild Kratts
Combining science education with fun and adventure, Chris and Martin Kratt travel to animal habitats around the globe. One of the best features of the show is the brothers creature suits which allow them to transform into the animals they're observing as well as closer encounters among them.
Sesame Street
This pioneering children's program has endured and adapted beautifully with the modern era. In many ways it's still the gold standard by which other children's programs should be judged.
Question for Parents
With the advent of streaming services, does the idea of cutting out the use of cable companies for television viewing become a more viable option in your home?