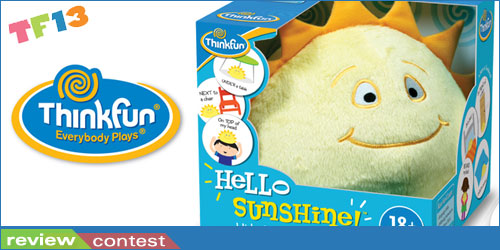 Thinkfun has a well deserved reputation for developing addictively fun games that build reasoning and creative thinking skills. I've had the opportunity to review several of their games over the years including Zingo: Sight Words, Roll & Play, Snack Attack! and Chocolate Fix. This year at the 2013 New York Toy Fair, I was introduced to ThinkFun's latest game for toddlers called Hello Sunshine!
What's the game experience like?
Building on the success of last year's critically acclaimed toddler game Roll & Play, ThinkFun has made use of a similar card system, a plush toy named Sunshine, and cleverly added the game play of Hide and Seek. Much like the big multi-colored cube from Roll & Play, kids will instantly become enamored with the highly huggable Sunshine. Through use of beautifully illustrated playing cards, Hello Sunshine! helps introduce and reinforce visual placement concepts to toddlers such as under, above, behind, in front, below, next to , and so forth.
The incentive to locate the lovable plush toy adds excitement for kids of all ages. For parents of siblings who may not necessarily be in the same age category, Hello Sunshine! bridges the age gap by way of its universally fun game play. Based on my own experience as the referee of a sibling rivalry, ThinkFun's Hello Sunshine! can be a catalyst for kids' smiles and laughter even on the cloudiest of days.
And Now The Giveaway
Using the RaffleCopter form below, enter the contest for your chance to win your very own Hello Sunshine!(retail value $19.99) by ThinkFun. Good luck and thanks for entering!