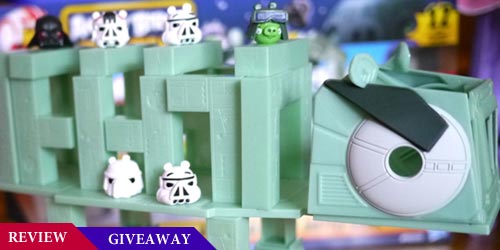 There are many perfect combinations in the world. Think peanut butter and chocolate, Batman and Robinl, Thunder and lightning, Rock and Roll, Kate Upton and a swimsuit. You get the point. Two distinct people, things, or ideas combining their inherent unique goodness to form something truly special. Enter Angry Birds and Star Wars into the fray. Building on the success of the original Angry Birds app, game producer Rovio teamed with Lucas Arts to create the successful app, Angry Birds™ Star Wars™. And now they've combined forces with Hasbro™ to create new toys including Angry Birds™ Star Wars AT-AT™ Attack Battle Game.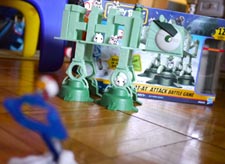 What's fun about Angry Birds™ Star Wars® AT-AT Attach Battle Game is the variety of game play a kid will experience. You basically stack up blocks to form the AT-AT and try to knock them down via your Lightsaber launcher. Included with the game are 12 Angry Birds™ Star Wars® figures, two of which are exclusive to the set. Kids will not only enjoy the familiar Angry Birds™ game play but will also inevitably create their own scenarios as their imagination becomes unleashed in the whole Angry Birds™ Star Wars® universe. Parents please note though, assembling the AT-AT should be done on a flat surface such as a wood floor or a table top and parents will need to help younger children.
Other new Angry Birds™ Star Wars® toys worth of mention are Angry Birds™ Star Wars® Foam Flyers and Angry Birds™ Star Wars® Millennium Falcon™.
As per the press release:
Angry Birds™ Star Wars® Foam Flyers (MSRP $9.99) Ages 5 and up.
Toss around these 3.5 -inch soft foam, iconic characters for a new way to play Angry Birds Star Wars. Available in Luke Skywalker, Chewbacca, Darth Vader, and Stormtrooper. Each sold separately.

Angry Birds™ Star Wars® Millennium Falcon™ Bounce Game (MSRP #19.99) Ages 8 and up
Bounce into action with the new Angry Birds Star Wars Millennium falcon Bounce Game. Bounce three balls at the Millennium Falcon to knock down as many enemy ships as possible, and land in the cockpit to score big! Players can also unlock Angry Birds Star Wars in app con ten with a special code in each pack.
THE GIVEAWAY
in honor of "May the Fourth" be with you, we're giving away Angry Bird Star Wars AT-AT Attack Battle Game! Just fill out the Rafflecopter Entry Form below. But hurry! This contest ends at midnight on May 3, 2013. Good luck!
Disclosure: CuteMonster.com received free review samples of the Hasbro toys mentioned in the article in exchange for writing a review. All opinions are exclusively those of CuteMonster.com.