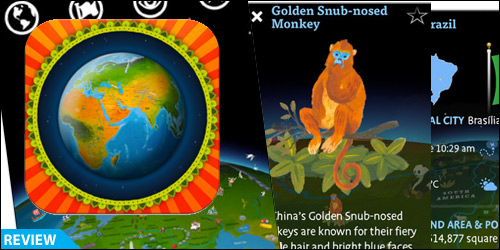 Teaching kids about geography and culture can be a tall order for parents. Although both subjects offer a wealth of unique and exciting information, the learning process requires a sustained level of focused attention and patience to be successful. Although kids are natural explorers, they are not a tolerant bunch by any means of the imagination. They absorb information like sponges but more so on an organic level rather than a structured environment. So how does one engage children in geography and culture? Enter Barefoot World Atlas, a universal app for the iPad, iPhone and iPod Touch.
Breakdown of the Features as per Touch Press, developer of the Barefoot World Atlas app:
An interactive globe that children can spin, zoom and fly around
Extensive Information on every country
Hundreds of animated features to discover
Innovative interface allows navigation by multiple routes
Beautiful animated illustrations by artist David Dean
Written text and spoken narration by geographer Nick Crane
Hundreds of carefully chosen photographs
An evocative soundscape with ever-changing music and effects
Live country data from Wolfram|Alpha®
Multi-language, universal app optimised for the retina display
Our Test Results
Barefoot World Atlas offers kids of all ages a captivating interactive experience of the world we live in. The intuitive nature of the app such as allowing the user to spin and resize the globe will delight younger children. Coupled with the wonderfully illustrated interactive environment and music which changes from region to region, a young child will be motivated to visit again and again. Older children will benefit from the in depth explanations about places, people, animals and things. Yet generally speaking, kids won't spend the same amount of time with this particular app as they would an interactive game. Barefoot World Atlas was built to be a fun enduring learning resource rather than a typical game. As a parent, I found Barefoot World Atlas useful as a point of reference when discussing a myriad of world related topics with my children. Once their innate curiosity was sparked, independent exploration followed. in short, Barefoot World Atlas bridges the gap between the digital world and organic learning for children.
Overall Rating: B+
Recommended for children 5 and up.
Pros: Beautifully illustrated 3D interactive environment. Wonderfully narrated. Intuitive tactile controls. Provides an ongoing learning resource.
Cons: Too little information about geography.