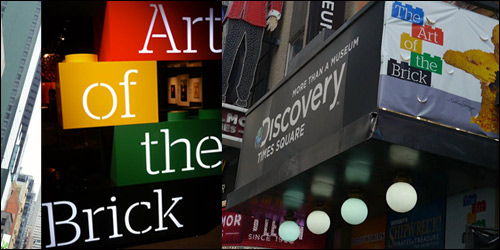 Play acts as the catalyst for artistic expression. I'd wager most artists interpret their work as one's mind at play. The inspiration for creativity can be derived from a myriad of sources including toys. Nathan Sawaya, a lawyer turned full time artist, tapped into his imagination by creating works of art using LEGOs. I was invited to see his latest captivating exhibit, Art of the Brick, in NYC at Discovery Times Square. in short, his work is amazing, especially considering the meticulous nature of building with LEGOs in scale. I'm elated to be able to share the opportunity to see the exhibit which is why CuteMonster.com is offering the chance to win one of four 3 -Pack of tickets to Art of The Brick.
Check out some images from the Exhibit:
Watch video of Nathan Sawaya talking about "Whistler's Mother" at Art of The Brick
How to Win Tickets to see Art of The Brick
Use the Rafflecopter entry form below for your chance to win one of four 3-Packs of Tickets (total value $67.50) to see Art of The Brick in New York City at Discovery Times Square located 226 West 44th Street between 7th and 8th Avenue directly across from Shubert Alley. Good luck!