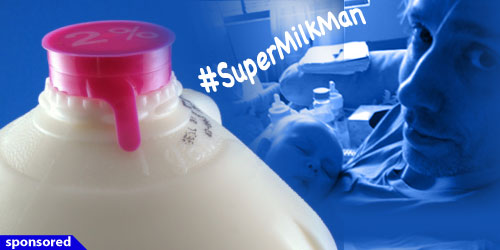 When I was asked to enter the #SuperMilkMan contest, admittedly I was filled with doubt. Could I live up to the standards portrayed in the commercials by the legendary Dwayne Johnson aka The Rock? Then it hit me. I've been a father for over seven years contending with real life challenges. There's no break for a touch up of make up. No trainer to keep me in shape on a daily basis. Nor will any of my parenting victories be marketed and publicized to every corner of the planet. I win every day by making sure my family remains healthy and strong. That includes a diet that's rich in protein and essential nutrients. I am #SuperMilkMan, it's just what I do.
Check out the video:
And to all Dads who engage with their kids each and every day to make the world a better place, thank you.
Disclosure: I'm being compensated by Life of Dad LLC for both my participation as an entrant of the #SuperMilkMan Contest and the promotion of the #SuperMilkMan Contest. I am absolutely not being compensated (except by unconditional love) to wage epic battles with my kids to drink their milk. Yet oddly enough,they never fight with me when it comes to eating ice cream.