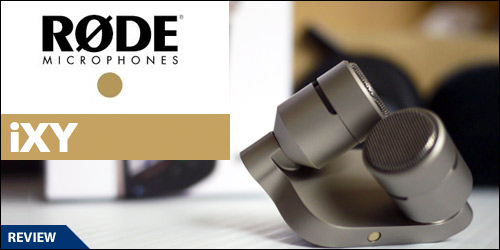 The ability to record quality sound at a moment's notice requires a uniquely designed portable audio recording device. Several manufacturers offer stand alone hardware solutions providing this functionality. Yet RODE Microphones has chosen to disrupt the status quo with the RODE iXY Stereo Microphone (MSRP $199), a device which they describe as" the ultimate recording microphone for the iPhone, iPad, and iPod Touch".
How Does the Rode iXY Stereo Microphone work?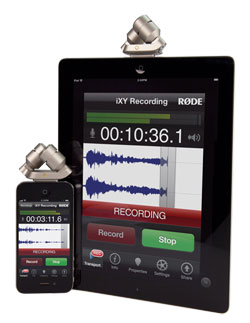 The Rode iXY Stereo Microphone makes use of a pair of 1/2″ cardioid condenser capsules fixed in a 90 degree coincident alignment. The entire lightweight device attaches to your iPhone, iPad or iPod Touch by way of the Apple legacy 30 pin connector or via a lightning 30 pin adapter for newer Apple devices. You'll need to download the free RODE Rec LE app or the more robust paid version, RODE Rec app. Both of these apps allow for up to 24 bit/96K recording. Once you have the app running, you simply connect the iXY to enable the hardware. Then it's just a matter of choosing your recording preferences, input levels, etc. The iXY features a built-in high pass filter to reduce handling noise and interference which you can adjust with the RODE Rec app.
Test Results
I found both the free and paid apps to be fairly intuitive and was able to begin recording with minimum hassle. I made a few sample recordings using different settings. Note I did not bother to fine tune the settings for gain, etc. My goal was to listen to how the device would record using the default factory settings. Audiophiles will appreciate the detailed level of control provided by the RODE Rec app. Once you've finished recording your files you can edit them within the app (RODE Rec app only), rename them, select an output format, and share them via SoundCloud, Dropbox, iTunes, Email or FTP.
The RODE iXY really shines as portable recording gear due to its sheer versatility. The included windshield and carrying case were welcome additions adding to the convenience of using the device on a daily basis for creative pursuits. In short, the RODE iXY offers a compelling end to end portable recording solution ready for both today's digital professionals as well as audio recording hobbyists.
Rode iXY Audio Tests:


Overall Grade: A-
Pros: Versatile, easy to use, intuitive RODE apps, ease of sharing audio files
Cons: Included windshield merely adequate.
Disclaimer: To facilitate the review, CuteMonster.com was provided the Rode iXY by Rode Microphones free of charge. All opinions are completely those of the reviewer.