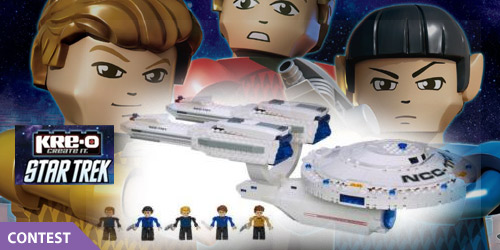 It's hard to believe how quickly the Summer has flown by this year. For many kids, camp has ended or is coming to a close. Most blockbuster Summer movies have already been seen along with copious amounts of popcorn consumed. The majority of toy manufacturers won't be releasing new toys until the Fall for the holiday season. It seems we're collectively up to our ears in Summer doldrums. We at CuteMonster.com say "not on our watch!" We've teamed up with Hasbro to give away the Kre-O Star Trek U.S.S. Enterprise Construction Set.
Arguably, the classic 1960s Star Trek TV series was the best of all the science fiction space adventures that have captured the imagination of countless millions of fans spanning over 40 years.
The following is an excerpt of the product description from the official Kre-O web site:
Create it with Kre-O building sets! Build and play with the U.S.S. Enterprise ship from the world of Star Trek! Kre-O building sets open up exciting building play with colorful bricks, cool Kreon figures and accessory pieces to build the way you play. The Kre-O Star Trek U.S.S. Enterprise has light-up features, a firing missile and cool Kreon figures to inspire your imagination to boldly go on exciting building adventures.

Build and play with the U.S.S. Enterprise, the classic ship from Star Trek. The ship has an opening lid to reveal the command bridge illuminated by light-up LightTech technology. The LightTech feature also lights up the deflector dish and the engines.

A spaceship needs a crew, so there are 5 Kreons included with the set including Captain Kirk, Spock, Dr. McCoy and two additional Kreon figures. The ship has a missile that you can fire when the ship is attacked by enemies during its voyage through space.

Includes 430-piece building kit to create the U.S.S. Enterprise, 5 Kreon figures and an instructional guide. 

(M.SRP $49.99) Suitable for Ages 8 – 14
How To Enter
Just use the Rafflecopter contest entry form below. Good luck!