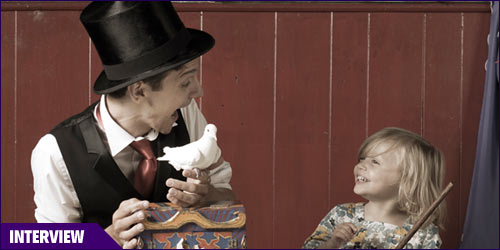 I first learned about Mario Marchese aka Mario the Magician in 2012. Kal Toth, a college buddy of mine who also happens to be a filmmaker told me about a short film he created entitled "Building Magic". Based upon the successful response to the short, a 2013 Kickstarter campaign secured funding to extend "Building Magic" into a feature length film expected to be ready for the film festival circuit in early 2014. I had the opportunity to catch up with Mario in an interview that touches upon life, fatherhood, and magic.
CM: When do you first discover Magic? Did you have a favorite magician when you were growing up?
Mario: I discovered magic by accident. I was on a quest to find cheap antiques one afternoon, only to find out one of the antique shops on my list had been sold and turned into a magic shop. I was so confused. The walls were lined up to the top with all kinds of abstract boxes and props. Lots of colored silks with dragons and rabbits, display cases filled with all kinds of mysterious trick boxes and mechanical pieces.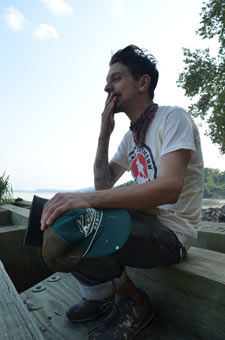 I got introduced into magic when I was 22! I never saw a magic show growing up. I think thats the weirdest part. I feel if I was introduced at a younger age maybe I would never have fallen in love with it like I did. At that time in my life I was hungry for a craft to envelope me and take over my life. Even going to the magic shop that day didn't click. It was a very slow process. I started visiting that shop occasionally only to realize something was changing in me. I kept wanting to go back. I loved that innocent objects like pencils and coins could be so cleverly manipulated. Seeing someone perform great sleight of hand is like watching a one-man orchestra. Its a very rare moment, and you realize that as you are watching it. That's why people explode like a child when they see it done well. Great sleight of hand destroys your thinking of reality, in the most positive way. I was very fortunate to have seen some unbelievable magicians perform for me for fun in that magic shop, and it still affects me today after all these years. My life is a testimony of what their offbeat performances did to me!
CM: Is there a difference between a Magician and an Illusionist?
Mario: There are so many titles for different types of performances, it's hard to keep count! You have close-up magicians, cabaret magicians, children magicians, stage magicians/illusionists, card guys, card cheats, mentalists/mind-readers, etc…
CM: Have you ever experienced Magic of the supernatural kind?
Mario: My first magic convention was a supernatural experience. 🙂 Actually I remember other magicians asking me, "Is this your first?" I'd say, "Yeah," and they would always say, "You are so lucky! I wish I could be in your shoes!" I didn't get it at the time, but I do now. So many new and amazing things happened that weekend. Things that I wish I could rewind and experience over and over.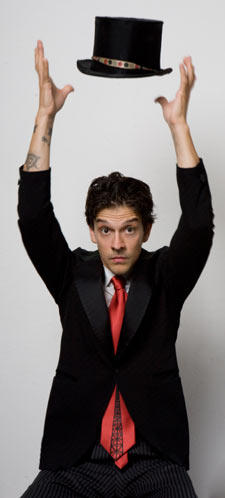 Every night after the evening performances were over, everyone would head over to the local Veterans' Hall for some drinks and to out perform each other. The best of the best were there. I didn't know it at the time, but great magicians from all over the world were hanging out squeezed in that little hall. This one magician named Rick Merrill came to the table where I was sitting and asked me to pick a card and sign it. After signing it I clearly put my signed card in the middle of the pack, which he was holding in his hand. He asked me twice where my signed card was. I said, "In the middle of the pack." He said, "No, look under the empty card case on the table." I lifted it up, and there was my card! He asked me again very slowly to put my signed card in the middle of the pack. This time I watched even harder looking at his hands. He shuffled the cards a few times and asked me where my card was. I said, "It's in the pack that you're holding." He said, "No, check under the card case." I will never forget this moment as long as I live. I looked at that card case in horror, because I had been staring at it waiting, and sure enough my signed card was under the card case. It was so magical I literally wanted to puke. I couldn't understand how he was doing this so smoothly and slowly. The third time I put my signed card in the pack, all the cards vanished in his hand except for my signed card. Where did the cards go!? You guessed it. They were all inside the card case. I couldn't handle the joy I felt at that moment. It was truly like seeing a shaman or something supernatural. It was after witnessing this that I really dedicated my life to learning magic. A year and a half later, Rick Merrill went on to win FISM, the world championship of magic that happens every four years, one of the most prestigious honors in our field. He took home the gold. Only four or five Americans had ever achieved that in his category. I took that as a deep, deep sign that I was on the right path.
CM: Magic Faceoff: Merlin vs. Gandalf. Who wins?
Mario: Oh come on! Gandalf any day!
CM: The short documentary "Building Magic" has been receiving accolades on the film festival circuit. You're now in production with the full length documentary. How's it going? Can you give us a few tidbits of what to expect?
Mario: It's going great. I feel so lucky to have an opportunity like this. I am trying my hardest to honestly show the ups and downs of my life and journey so far. Working with Kal, the filmmaker, is a gift to me. He is so passionate and talented, it's insane. And Katie, my wife, is the reason this is all happening. She took over our Kickstarter campaign and gave up her life for a whole month to get us past the finish line. Now we have the fuel of all of our Kickstarter backers behind us. We have people that believe in us, and that makes me sleep at night.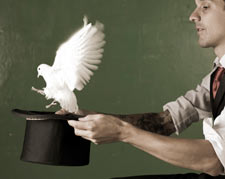 This whole journey started with me leaving the place I live to find some type of purpose for my life. I left with my dog, Cloudkicker, first to Philadelphia, and then across the country, hitch-hiking to different towns and places. My ultimate goal was to ride the tide and see where it took me. I had no idea it would lead to becoming a magician. Kal says that the film will ultimately concentrate on three themes: "Youth, Rebellion, and Triumph".
CM: How has your work as a magician been influenced by becoming a Dad?
Mario: That's a great question. Since my job is to entertain kids, to make them laugh until they explode day after day, having a child of my own is like a continuation of my magic show. I try to take my two-year old daughter, Gigi, to all of my public shows. She is often with me as I set up behind the curtains. Katie and I both encourage her to perform in every way possible. We constantly listen to music and dance. When she sees my show, she generally lasts about five minutes before standing up and demanding to be on stage with me! It's exciting to see how she will unfold as a person, and to see what sticks and what doesn't with all this magic stuff. Who knows! Growing up seeing this could make her go in the opposite direction and become a doctor or a lawyer. Either way, being a dad is the most amazing part of my life right now, hands down.
View the short film "Building Magic"
Want to learn more about Mario the Magician? Make use of the links below:
mariothemagician.com
facebook.com/mariothemagician
twitter.com/mariomagician
More about "Building Magic":
www.buildingmagicfilm.com
facebook.com/buildingmagicfilm
twitter.com/buildingmagic