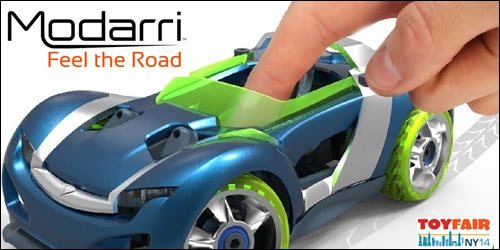 Discovering Modarri, a new toy car company, was truly pure luck. In my experience, roaming the aisles of the New York Toy Fair at the Jacob Javits Convention Center can be somewhat of a labyrinth. The sheer number of exhibitors seems to grow exponentially each year causing tight squeezes and ultimately overlapping booths among smaller vendors and start-ups looking to attract the attention of the press and buyers alike. Thankfully social media has emerged as a useful tool to navigate unchartered waters. A random tweet made on Twitter announced that Modarri, a new toy car company, had reached and surpassed its Kickstarter goal. After checking out their Kickstarter page I was intrigued to meet the 3 Dads leading the start-up, all of whom are phenomenally successful toy industry veterans dedicated to creating and selling beautiful, functional, durable toys.
The following is an interview with Brian Gulassa, Chief Design Officer and Trevor Hite, Chief Operations Officer of ThoughtFull Toys, parent company of Modarri. Both men were in attendance at the 2014 New York Toy Fair. David Silverglate, Chief Executive Officer, was not present at the show.
What do you think about Modarri Toy Cars?