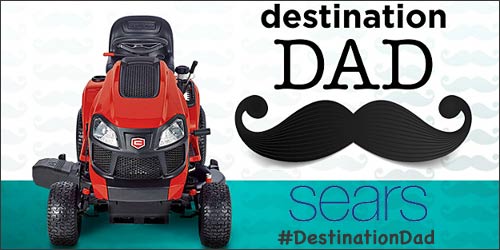 Admittedly I've been an online shopper for years. When the teeming masses are all in a frenzy at shopping malls across the United States, this Dad is comfortably at home perusing the internet for the best deals. Yet being cooped up inside has its drawbacks too. Over time, your humble abode feels smaller, the ambient noise becomes deafening and the air you breathe turns stale. Your inner being cries out for an oasis, a place where dreams can come true. You get in your car and drive putting your faith in your heart to guide you. As you arrive at your destination your senses awaken as if being reunited with a long lost friend. You've made it. You're at Sears.
Considering all the #DestinationDad deals Sears has for Father's Day, they were well prepared for Dad-cations. In short, I had a blast. I even took a few snapshots to mark the occasion.

Did you know that Sears has a "Snap Your 'Stache" contest? It's easy. Dads can either submit selfies or have friends or loved ones take a picture of them. Then go to the Sears website and submit it.
If you submit everything before June 15th you'll be eligible to win the Craftsman MAKEcation grand prize — a trip to Lake Arrowhead, California for an exclusive, once-in-a-lifetime experience to learn from skillful blacksmiths, rugged woodworkers, cigar rolling aficionados, and barbecue pitmasters. You'll also meet a mystery celebrity and learn survival skills.
So get moving. Have fun and visit Sears for #DestinationDad. Enjoy the sights and have a great Father's Day!
Disclosure: CuteMonster.com partnered with Sears and Life of Dad, LLC for this Father's Day promotion and was compensated for participating.
Check out the Sears 'Stache Video