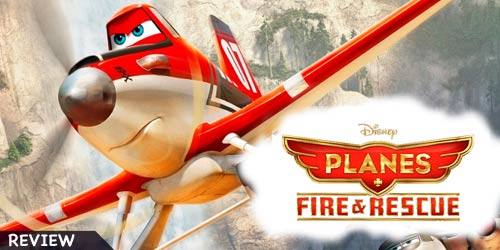 Following up on 2013's surprise hit "Planes", Walt Disney Pictures ushered in a sequel for the summer of 2014, namely "Planes: Fire & Rescue". The original movie was largely panned by critics yet kids loved the assortment of colorful planes as well as the formulaic yet engaging story of the underdog, Dusty Crophopper, overcoming seemingly insurmountable odds. "Planes: Fire & Rescue" offers up a new challenge for Dusty as expressed by the easy to comprehend title.
How's the story?
As suggested by the title, Dusty will enter the world of Fire and Rescue. When he learns that his engine is damaged and he may never race again, Dusty opts to take on becoming an aerial firefighter. But first he must prove himself worthy to veteran fire and rescue helicopter Blade Ranger and his team. Ultimately Dusty must discover what it takes to become a true hero.
Overall, the pacing of the story stalls at times. Although "Planes: Fire & Rescue runs a brisk 83 minutes, the movie feels a lot longer. Although the creators of the Planes franchise attempt to differentiate their stories from the Cars franchise, the two worlds overlap in a variety of ways including their similar character types. Yet it's difficult to fault Walt Disney Pictures, kids find Dusty and friends easily accessible which makes for satisfied little customers.
How's the animation?
The flying scenes save "Planes: Fire & Rescue" from the slow paced exposition. Not surprisingly, the fire and rescue sequences captivated kids of all ages. Audience outbursts of "cool!" and "whoa!" could often be heard as Dusty and friends raced to battle several blazes.
Any opportunities for Bathroom Breaks during the movie?
In all honesty, you could pick any scene that doesn't involve a fire and rescue motif. Best bet would be when Dusty and the fire and rescue team visit the lodge for a party.
Overall Rating: C+
Recommended for kids ages 5 and up.
Pros: Captivating action sequences depicting aerial fire and rescue. Kids will love the planes and rescue vehicles.
Cons: Slow paced story. Painfully formulaic at times. Jokes fall flat more times than not.
View the official "Planes: Fire & Rescue" Trailer