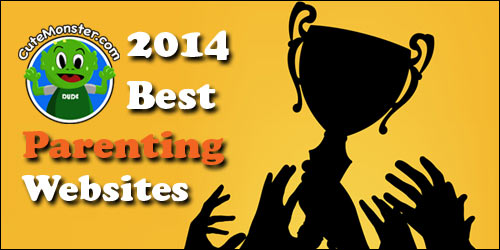 Knowledge is power. When you're a new parent, you may find yourself feeling like the house idiot. A newborn baby, a precious and seemingly innocuous little life form, becomes the catalyst of life altering change. Imagine a lumbering freight train rounding the bend in the middle of the night. Then think of you and your significant other on a carefree adventure filled moonlit stroll on the tracks. You'll never be aware of the massive impact awaiting you if you fail to see said train behind you in time.
One might argue that childcare information is readily available from a variety of sources online. Yet too often the sheer volume can be overwhelming. Social Media continues to adds fuel to the fire with its rapid fire opinion based interaction and potentially polarizing tone. Like a lighthouse during a raging storm we hope to guide parents to safe harbor with our updated picks for best and worst Parenting Websites of 2014.
The Best Parenting Websites
1) PBS Parents
PBS Parents remains a stalwart ally for parents. They continue to emphasize parenting as an equal partnership. Offering useful advice from a myriad of experts and parents, it's a refreshing balance rarely seen in the commercial world. What's most impressive is there's seldom a hint of condescension or self-aggrandizing in their content. It's just a useful resource very much appreciated by parents contending with the daily challenges of raising children.
Too often perspective about content generated from the Media is skewed by the advertising dollars behind it. Common Sense Media is more of an advocate for truth over commerce. Offering reviews, of movies, apps, games, websites, and more, Common sense provides a wealth of unfiltered information.
Taking the parenting resource baton Babble dropped last near, HuffPost Parents came in to fill the void. Yet unlike Babble's infamous snarky style of bloggers, Huffington Post Parents presented a more balanced array of writers, both men and women, who collectively have brought poignant, humorous, and genuinely helpful voices to the table. Respect has made a welcome comeback to the parenting category.
Dr. Elaine Heffner's advice cuts through boundaries to offer advice that both Mothers and Fathers will find useful. There's never a sense of one parent being more qualified then the other in raising children. Instead, Dr. Elaine Heffner's thoughtful posts touch upon the human challenges of parenthood. In fact, her insightful points of view will leave you with food for thought offering opportunities to evaluate one's own perspective.
The Worst Parenting Websites
The commercially popular Babble.com has wonderfully talented writers on its staff, many of which we consider pals. And they also provide a nice mix of useful sections (crafts, food, health, etc.). But for the most part, the emphasis is on the personal told from a snarky entertainment point of view. The content of what's being written matters little compared to how cleverly the post was written. There's also way too much attention given to celebrity gawking. From a business perspective it makes sense to cover the world of celebrities but it doesn't offer much other than eye candy to parents. Lastly, the site claims it's for a "new generation of parents." In reality, it's just another mom-centric site with a few Dad writers added to the mix for appearances. In addition, they too often offer up ad laden slide shows as well as an endless assortment of silly lists.
The Middle Ground
Another commercially popular site that offers a myriad of information on the surface but is largely skewed towards promoting products. In addition, Parenting.com is clearly a site for Moms with Dads playing second fiddle Similar to Babble, celebrity gawking is prominent to attract onlookers interested in vicariously living through the lives of the rich and famous. Yet the site does offer a rich feature set of tools and articles on a variety of subjects making it worth a look on a daily basis.
Known for its voluminous collection of posts that often turns conventional thinking on its head, there's no topic too sacred to breach at Good Men Project. To its credit, female writers offer up their unique perspectives as well. Good Men Project has struggled with finding its voice due to internal editorial changes over the past several years. Still, Joanna Schroeder, the Executive Editor of Good Men Project, has brought tremendous energy to the online publication. She's not afraid to ask the challenging questions others would avoid.
Do you agree with our picks? What are some of your favorites? Please leave your own choices in the comments section below.