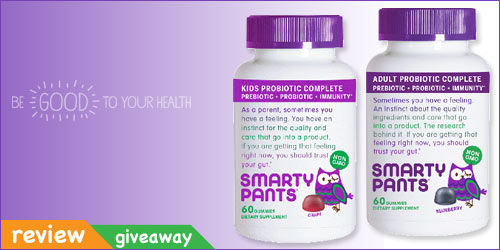 Life offers up plenty of obstacles to keep us out of the flow. If you're a parent, time management factors in heavily into the equation. It's an elusive goal which often ends up cutting into your own personal needs. It's not unusual for parents to want the best for their children. Long term though, self-neglect can be disastrous for one's health. Enter SmartyPants Vitamins Adult and Kids Probiotic Complete to help turn the tide.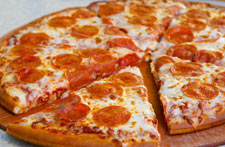 It takes a conscious effort to eat right, exercise, and maintain one's health. I've personally lost count on how many times as a Dad I've ended up partaking in the kids eating habits(snack food, pizza, etc.) rather than purposely packing something more appropriate for me. Equally daunting is the reality that my digestive system no longer works like the efficient machine of my youth. I can no longer indulge in an amusement park's idea of fine dining without impunity.
Yet all is not lost. Although the dietary paradigm may have shifted for me as an adult, it didn't mean I couldn't find ways to improve my situation. I found that being more physically active in my play time with the kids helped immensely. Switching out healthy foods for my kids typical snack food exacted a lifestyle upgrade. And lastly, based on a recommendation by my family physician, introducing probiotics into the mix evened out my digestive flow. Not too shabby.
In full disclosure, I partnered with the good folks at SmartyPants Vitamins who sent me a couple of bottles of Adult and Kids Probiotic Complete to review. According to their website:
An incredible 70-80% of the immune system is located in the gut. A large and growing body of research has emerged demonstrating the critical importance of gut microflora in supporting overall health. We created SmartyPants Adult Probiotic Complete and Kids Probiotic Complete to address the need for a comprehensive, chewable probiotic supplement that included not only multiple strains of spore-form bacteria in meaningful doses but also included prebiotics to feed your growing microbiome and support your immune system.
The Verdict
In short, I found SmartyVitamins Adult Probiotic Complete Gummies to be an easy way to introduce probiotics into my daily diet routine. They sent me the Lemon Creme flavor to review which admittedly wouldn't have been my first flavor choice. Especially since it comes in Blueberry flavor too. Did I mention I love blueberries? Still, I grew to enjoy Lemon Creme over time which eased my finicky ways. The kids version was in Strawberry Creme flavor. My children were mixed on the taste–one loved it the other was holding out for the grape flavor version. Yet both agreed the use of gummies made it fun to try.
GIVEAWAY
Hey friends, you can enter and win a couple of bottles of Adult and Kids Probiotic Complete by entering below. Good luck!
As with making any dietary change, please first consult with your physician.