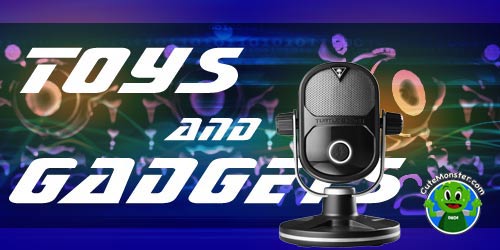 Video game audio matters just as much as the visual which is why the Turtle Beach Stream Mic was created. Most Game Headsets have attached microphones. Yet the voice sound quality is mediocre. This can be problematic when playing online. The Turtle Beach Stream Mic claims to be the voice audio solution gamers need.
What's in the Box?
The Turtle Beach Stream Mic retails for approximately $100. The package includes the Mic, a sturdy table stand, a boom mic attachment, and a lengthy usb cable. Technical specs for the microphone itself are not provided by Turtle Beach. The Mic and stand are fairly easy to assemble. It's advisable to go to the Turtle Beach website to get the latest firmware update.
How does it sound?
Glad you asked. I ran the mic through several tests to give you a sense of what this mic can do in terms of audio recording patterns and overall sound quality. Check out the video below for the finer details. Be sure to wear headphones to effectively judge the audio.
Comparison Audio
The first CuteMonster Show podcast made use of the Blue Spark Digital USB microphone. Listen to the audio quality to get a sense of the difference between a $200 microphone and a $100 microphone.

Overall Grade: B+
Recommended for Xbox One, PS4, PC and Mac
Pros: Great voice audio sound for the price. Designed to work well with the Xbox. Portable.
Cons: Plastic construction materials for the mic could make it vulnerable to accidental drops.
What do you think? What voice audio solutions do you when playing video games online?
Links to purchase the Gear:
Turtle Beach Stream Mic – http://amzn.to/2kyGnOp
Blue Spark Digital Mic – http://amzn.to/2kyBwN5
Rode VideoMic Pro – http://amzn.to/2k7iccy