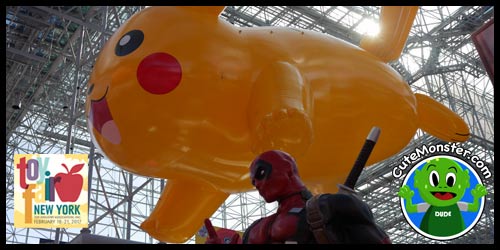 Attending the New York Toy Fair can be overwhelming. Imagine the world's biggest toy store then multiply that by 10000. From Dolls to Drones, there's aisle after aisle and multiple floors of play choices from all over the world. After careful consideration, we chose what we believe to be the top 5 best of the show.
Top 5 Toys from the 2017 NY Toy Fair
MECCSPIDER by Meccano
It's an app-controlled robot spider that you build yourself. In addition it's programmable via an app. It comes with an array of sensors on various parts of the spider's body. Lastly, you can spray unsuspecting victims with water courtesy of your new robot spider friend.
PonyCycle
We could wax poetic about the fun qualities of this riding toy. Instead, we'll let the Wild West enjoyment of this Dad blogger speak for itself. This is the large version of the PonyCycle. Apparently it's been out for a couple of years but relatively obscure so it was new to us, hence, our pick.
Star Wars BB-8
Spin Master unveiled its take on Star Wars BB-8. It has voice recognition, a remote control, and looks pretty impressive in person. Available in Fall 2017. MSRP $229.99
Kamigami
They're build-it-yourself robots. Bendable foldable plastic character skins. Circuit board is pre-built. It's extremely durable and operates via your smart device (tablet or phone). Sensors are in the front and back. You can battle other Kamigami robots. Combines Origami, robotics, and easy drag and drop programming. Available in the Fall 2017.
Batmobile Justice League
Straight from the 2017 New York Toy Fair, Mattel is bringing a collector's dream to life with this new BATMOBILE from the upcoming JUSTICE LEAGUE movie. It won't be cheap either. Expect an MSRP of $250. Lots of moving parts, augmented reality view, radio control via smart device(tablet or phone). Tons of sound effects. Batman figure included with the vehicle. Batman actually steers the car. Just a load of cool detailed features. This could be awesome. Let's just hope the movie lives up to the hype.
Overall, the 2017 New York Toy Fair brought forth innovation in droves. We can't wait to see what 2018 holds for the future. What kind of toys would be on your wish list?
Related:
2017 New York Toy Fair Image Gallery
The CuteMonster Show podcast – S1E4 – Jim Lin, Vera Sweeney, and Beau Coffron Talk Toys