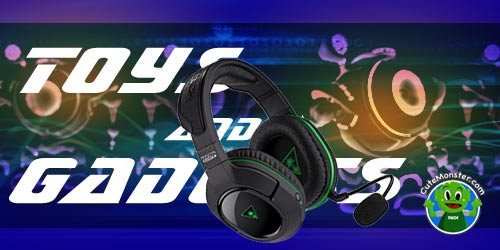 The Turtle Beach Ear Force Stealth 420x+ aims to be a premium wireless gaming headset solution for gamers. Quality audio gear gives gamers a competitive edge. Consequently, the battle for gamer gear supremacy has become intense as cheaper alternatives flood the market. Premium gaming headsets brands now have the added burden of proving their worth.
What's in the Box
I tested the Xbox One version. The Ear Force Stealth 420x+ is an officially licensed gaming headset for the Xbox One. You get a lightweight headset and detachable microphone, a wireless transmitter, a charge cable(USB Micro), and a quick start guide. Aside from having to peel off some protective plastic from the outer ear pads and attaching the microphone, you're pretty much ready to go.
The wireless setup
Again, this is a fairly straightforward process. You attach the wireless transmitter to your Xbox One USB slot. Press a tiny button on the side of said transmitter until it blinks rapidly. Turn on your headset and wait a few moments for the headset to be connected with the transmitter. The headset AI, in a lovely female science fiction toned voice, announces when the connection has been made. Overall set up took less then 5 minutes from unboxing to being connected.
How's the sound?
I compared the sound of the Stealth 420X+ with a pair of Klipsch Earphones I use with my smartphone as well as a pair of Sennheiser 280HD headphones I have for podcasting. The Stealth 420X+ headset is surprisingly lightweight and well-padded yet sturdy. I appreciated the intuitive controls of the Stealth 420X+. Users can adjust both the chat mic volume and audio volume with ease. I also liked the built-in EQ button which include Four audio presets including Bass Boost. The detachable boom mic provided adequately clear sound. It wasn't as good as a standalone mic but it certainly was a cut above typical built-in gaming headset microphones. Most gamers will be pleased with the overall package. You'll have no problem hearing even the slightest sounds during gameplay. Priced at MSRP of $149, the 420X+ offers a competitive premium gaming headset solution for a relatively modest cost.
Overall Grade: B+
Recommended for Xbox One. Also available for PS4 and PCs.
Pros: Easy set up. Quality wireless sound and mic package for the price range.
Cons: Some plastic parts felt a little flimsy.
Where can you get this gear?
Buy from Turtle Beach or other fine gamer gear retailers.
Turtle Beach Stealth 420X+ Promotional Video