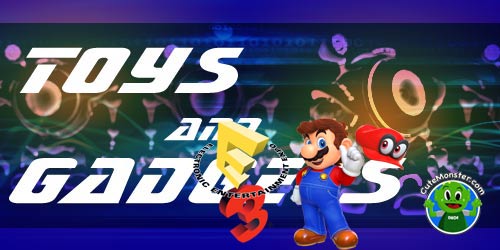 The major players at the 2017 E3 have made their announcements. It looks the Nintendo Switch has emerged a clear favorite with Xbox offering up an upgraded console this Fall and Sony promising exclusive titles for 2018. We've got the low down of what Nintendo has in store for gamers.
2017 E3 Nintendo Switch Game Lineup
Riding high on the momentum of its critically successful March 2017 launch of the Nintendo Switch, Nintendo offered up a stellar game lineup for the Nintendo Switch at its 2017 E3 Press conference. The big surprise? Metroid Prime 4. It's going to be a great holiday season for Nintendo fans.
Super Mario Odyssey
Weird, wonderful, and eccentrically awesome. Mario's back for another adventure.
Metroid Prime 4
There isn't much in the way of details. But just the fact that this title is being made confirms Nintendo has been listening to its fans.
Rocket League®
The addition of the popular Rocket League franchise plays into the portable co-op fun for the Switch. Hopefully many gamers will buy this iteration to enhance multiplayer gameplay.
New Yoshi Game In 2018
This game looks ridiculously cute. Take our money.
New Kirby Game in 2018
This little round dude has quite the loyal fan base. Not surprisingly he's back for more fun for the Nintendo Switch.
The Legend of Zelda: Breath of the Wild – Expansion Pass
From new armor to an elaborate "smart map", the potential is pretty fantastic.
What do you think? Did the new Xbox One X spark any interest? How about Sony's line up of games? We do think the upcoming 2018 Spider-Man looks amazing.
Related:
More Toys and Gadgets.
Check out and subscribe to our YouTube Channel for more tech news and reviews!
Love podcasts? Catch up and listen to episodes of The CuteMonster Show.
Connect with us on Facebook too!