You've heard the rumors about the upcoming SNES Classic. You might even be a bit jaded from missing out on the NES Classic system. Notably, it was released in painfully sparing quantities last holiday season. Yet hope springs eternal. Nintendo made it official today by confirming the release of the SNES Classic on September 29, 2017.
The miniature retro-gaming console will retail for $79.99 and come complete with a pair of wired controllers,an HDMI cable, and a charging cable. Those of you grumbling about the short 3ft cord controllers from the NES Classic will be elated to know the SNES Classic will have 5ft cords.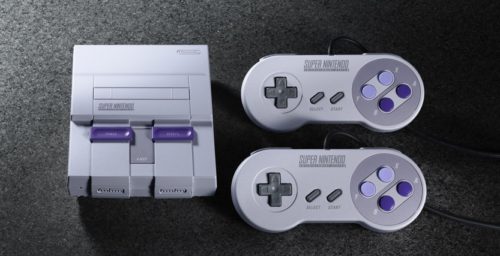 But what about the games? The SNES Classic's lineup is phenomenal. There's not one single clunker included in the bunch with the possible exception of Star Fox 2 which is being newly released for the first time ever. Many of these games have multiplayer options allowing for gamers to dive right into the mayhem.
Here's the full SNES Classic bundled game list:
Contra III: The Alien Wars
Donkey Kong Country
EarthBound
Final Fantasy III
F-ZERO
Kirby Super Star
Kirby's Dream Course
The Legend of Zelda: A Link to the Past
Mega Man X
Secret of Mana
Star Fox
Star Fox 2
Street Fighter II Turbo: Hyper Fighting
Super Castlevania IV
Super Ghouls 'n Ghosts
Super Mario Kart
Super Mario RPG: Legend of the Seven Stars
Super Mario World
Super Metroid
Super Punch-Out!!
Yoshi's Island
What do you think? Are you in? Do you think Nintendo will release the SNES Classic in sufficient quantities. Are you ready for the madness if they don't?
Related
Be sure to subscribe to our YouTube Channel where you'll find more fun videos like the ones above!
Love podcasts? Catch up and listen to episodes of The CuteMonster Show.
Connect with us on Facebook too!