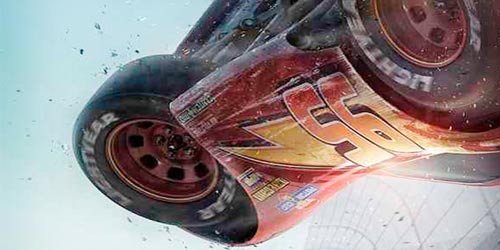 Disney-Pixar's eagerly anticipated release of Cars 3 arrived last weekend. Much like Toys 3 emphasized the passage of of time, so too does this feature film. Lightning McQueen, race car extraordinaire, finds himself facing obsolescence. Audiences expecting a feel-good comeback story might be surprised.
How's the Cars 3 Story?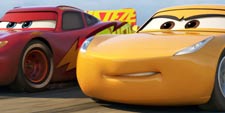 The movie begins featuring a montage of races with Lightning McQueen at the top of his game. He shares a healthy camaraderie with the elite race cars from race to race. Then a new cutting edge race car enters the fray. Suddenly the losses pile up for Lightning McQueen and others from the same race car era. Many opt to retire. Lightning McQueen, always the competitor, chooses to fight on in the hope of returning to his championship glory. Pushing the threshold to win, he ends up in a devastating crash. Returning to his Radiator Springs after months of inactivity, he sums up the courage to train for a return to racing. A series of events occurs which transports him to a newly constructed high tech training facility. He's introduced to his new trainer, Cruz Ramirez. Several humorous/humiliating scenes follow emphasizing Lightning McQueen's inability to adapt to the new generation style training for modern race cars. Struggling for answers, he looks to the past to rekindle his ability. The theme of mentor and student resonates prominently. And so goes the rest of the movie. Pass the Tums. And be sure to check how your 401K plan is doing.
How's the action?
There's no shortage of racing action. Disney-Pixar excels at providing magical visual design on the big screen. Yet the fun factor feels forced this go around. Still, the flashback sequences soar.
Any opportunity for Bathroom Breaks?
Oddly enough for an action movie, there are several. I suggest answering nature's call during the bar sequence, the beach racing sequence or the demolition derby.
Overall Grade: B
Rated G. Recommended for all audiences.
Pros: Owen Wilson still gives life to the character of Lightning McQueen. Cruz Ramirez is a fun new addition. A lot of cool racing action.
Cons: Lightning McQueen is no longer in his prime. You, by association, will feel over-the-hill as well.
Official Cars 3 Movie Trailer

Related
More Movie Reviews!
Be sure to subscribe to our YouTube Channel.
Love podcasts? Catch up and listen to episodes of The CuteMonster Show.
Connect with us on Facebook too!