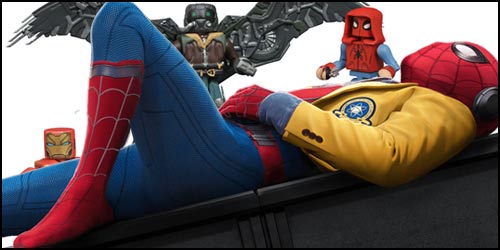 With the highly anticipated Summer movie release of Marvel Studio's Spider-Man: Homecoming, CuteMonster partnered with Diamond Select Toys to offer a lucky CuteMonster reader the chance to win a set of Spider-Man: Homecoming Minimates. Tom Holland's well-received introduction as the webhead in Captain America: Civil War prompted fans to count down the days to his solo Spidey film. The hype machine added to the frenzy by doling out numerous action packed movie trailers. I began to wonder out loud if there would be any surprises left when actually watching the story in its entirety. As I anxiously sat in the IMAX theater today donning my 3D glasses, a nostalgic Spider-Man tune played over the opening credits. I felt an involuntary smile form on my face.
How's the the Spider-Man: Homecoming Story?
As much as I enjoyed Tobey Maguire's and Andrew Garfield's performances as Spider-Man, neither quite nailed the character completely. Tom Holland, on the other hand, will delight fans. Taking place many months after the Captain America: Civil War story, we catch up on the daily life of a high school kid who just happens to be Spider-Man. Holland's portrayal of Peter Parker captures the awkwardness and insecurity of being 15. Not quite a man but just a few years shy of being a boy, the internal struggle of a young teenager looms large. Driven to prove himself worthy to be a part of the Avengers, he must also contend with the struggle of a high school crush.
How's the villain in the story?
If you've watched the movie trailers, you'll know who's the villain. Michael Keaton's fearless, riveting performance paints emotional colors both poignantly human and terrifying.
How are the Special Effects?
Each iteration of the webhead on the big screen marks a noticeable improvement. The Spider-Man: Homecoming special effects team builds upon past successes and offers up a few new surprises that will elicit high praise.
The movie is rated PG-13. Too intense for young kids?
Aside from a few curse words used sparingly, the violence levels are on par with the Avengers movies. Kids 9 and up should be fine but it's all relative.
Any opportunities for bathroom breaks?
I really enjoyed the movie and didn't notice too many lulls in the story. Yet if nature calls, you might try after the ferry scene or early on in the Washington DC scene when Peter is on the bus with his classmates.
Overall Grade: A-
Rated PG-13, we recommend ages 9 and up for kids comfortable with Avengers-style superhero movies.
Pros: Tom Holland embodies the role of Peter Parker/Spider-man, Michael Keaton provides emotional depth to the story. Fun, feel-good storyline. Ned Leeds is awesome.
Cons: A few too many awkward moments as Spider-Man. Zendaya, although likable in her role, adds little to this particular story. Where was Spider-Man's "Spidey Sense"?
Official Spider-Man: Homecoming Movie Trailer

Spider-Man: Homecoming Minimates Giveaway
Enter for your chance to win a set of Spider-Man: Homecoming Giveway via Diamond Select Toys. These highly collectable figures will make a welcome addition to any webhead fans collection. Good luck! Contest ends Thursday, July 13, 2017 at 11:59pm.
Related
More Movie Reviews!
Be sure to subscribe to our YouTube Channel.
Love podcasts? Catch up and listen to episodes of The CuteMonster Show.
Connect with us on Facebook too!