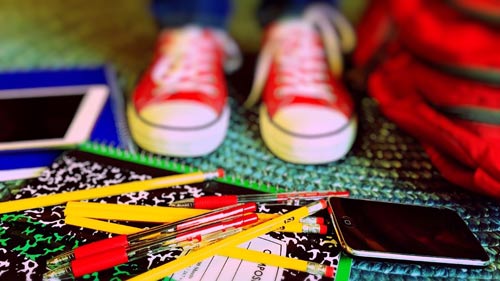 As much as I've focused on controlling the whole space-time continuum each Summer, nothing shakes me to the core more than the realization it's soon to be Back-to-School time. Despite my appearing to be composed on the outside, inside I'm letting out an ear-shattering primal scream. As a parent, you're filled with a tidal wave of mixed emotions. My children are growing up! I am aging even quicker! They need new clothes! What's the plan for school lunches? How will they get to school? Holy smokes, they're in different schools this year! Do I get my newly minted middle school kid a phone? And where is Batman when I need him most? The time for straight talk has arrived.
Thoughts of a new school year triggers visions about the big picture in my family's life. For example, my wife travels for her job. Recently she went to South Korea. It was the furthest distance she'd ever been from our humble abode. Thankfully modern technology kept us relatively close. Whether on a tablet or using a smartphone, the ability for real time video chatting lessened the feeling of being separated. In a way, we shared her Far East adventure and she felt like she was still at home with us. My wife being able to interact with our children including the inevitable endless silly face battles kept us whole. I'd add that jumping on the hotel bed because our kids asked to see her do it was pretty special too. But I digress, Back-to-School planning looms large once again.
Oh, the places you will go!
A fine title for a Dr. Seuss story yet a maddening thought for parents dealing with school commuting logistics. As I mentioned previously, my kids have seemingly conspired to advance academically requiring my oldest to leave elementary school for middle school while my youngest stays in said elementary school. Our relatively easy school drop off/pick up scenario had been eradicated like clockwork. My wife and I had no say in the matter. To quote David Bowie, "time can change me, but I can't change time." We realized our oldest child needs to take the bus–not a school bus, the city bus. All of sudden his never ending request to have his own phone actually now makes sense. Cue plot twist.
It's all the Things
A new school year requires factoring in all the variables.
The daily school lunch preparation needs adjustment. Most middle schools offer some meal plan for kids. It seems most kids don't opt to stick with themed lunchboxes from 6th grade onward. In a way, that saves us time in the morning. Although I shudder at the thought of what culinary experiments my oldest might endure. I vividly remember the "cuisine" served up in high school. It comforts me knowing that at least my youngest will partake in a quality dining experience.
After school activities vary from child to child. While there's some certainly in common extracurricular classes my children share in common, it's the whole different school logistics that come into play that needs to be scrutinized in advance. Whether sports, art, or other interests, the starting and end times will have potential conflicts. More than ever, ease of communication becomes increasingly important. Yet another vote for granting my son's request for a phone. I don't remember asking him to grow up so quickly.
Fostering independence while Clinging on to Innocence
Growing pains reflect changes in both parents and their kids. I've experienced the subtle nuances every day in what has been a joyful, challenging, yet all too quick journey to date. Although both my children still retain childlike innocence about a variety of subjects, their desire for independence informs the path each will walk someday. I think being present and available is the best a parent can offer during this transition.
Straight talk about back-to-school to me means embracing the future while acknowledging, reflecting upon, and moving on from the past. I don't know if I'll ever figure out this whole parenting thing. I do know it matters. Also, I'm still voting for kids to take things slow.
More about Straight Talk

Straight Talk Wireless is the leading no-contract wireless carrier, offering customers the best phones on the best networks for less.
Best Networks: Straight Talk offers nationwide coverage on America's largest and most dependable networks.
Best Phones: With Straight Talk, you can choose from the latest phones on the best networks, all for less – including the Samsung Galaxy S8.
Best Deals: With Straight Talk, there are no contracts, no credit checks and no mystery fees. With unlimited plans at $45 and $55, you can save on your monthly phone bill and great deals on the best phones.
Just in time for school, Straight Talk Wireless has added more high-speed data to its best phone plans. You can now get more high-speed data for the same low price.
Get unlimited talk, text and the first 8GB of high-speed data then 2G* for $45. Or bump it to 12GB of high speed data then 2G* for $55.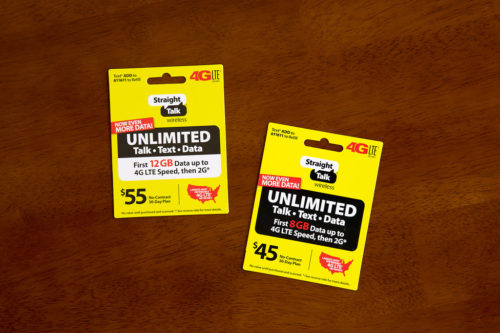 Straight Talk phones and service plans are available exclusively at Walmart stores and online at StraightTalk.com. For more information and ways to save, visit StraightTalk.com today!
Disclosure: I have partnered with Life of Dad and Straight Talk Wireless for this promotion.
*At 2G speeds, the functionality of some data applications, such as streaming audio or video may be affected. Please refer always to the latest Terms and Conditions of Service at StraightTalk.com.