Growing up I was always a fan of comedy teams ranging from Abbott and Costello to Bugs Bunny and Daffy Duck. You could always count on them to deliver witty banter and outrageous adventures. As a parent, I was thrilled to discover the children's book "I Broke My Trunk!" by Mo Willems. A whimsical tale in a series of books starring the unlikely pairing of a sweet natured elephant named Gerald and a plucky outspoken pig named Piggie.
How's the Story?
As the title indicates. "I Broke My Trunk!" centers around Gerald telling Piggie the story about how he broke his trunk. What makes the story engaging can be found in the escalating exchanges between Piggie and Gerald. One can't help but add one's own distinct voice to each of these characters as you read the story aloud to a child. The simple yet expressive artwork effectively conveys the sentiment of the characters. The humor of the story, based on the relationship between Gerald and Piggie, really surfaces for kids ages 5 and up who can enjoy the tale rather than struggle with reading skills. For younger children (ages 4 and younger), the pictures rather than the words will captivate their attention.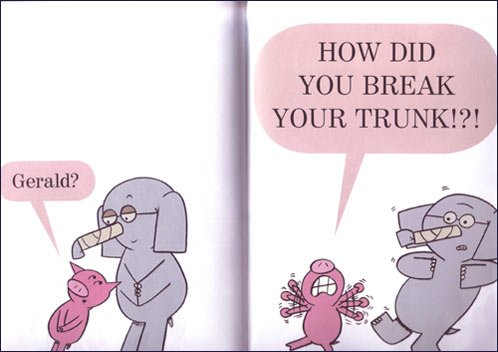 Overall Grade: A-
Recommended for children 4 years and up.
Pros: A wonderfully accessible tale that will instantly grab your attention. Mo Willems' simple yet expressive illustrations are fun to view and could certainly translate well into an animated version.
Cons: It's a relatively quick read with minimal artwork on each page to investigate and discover. Parents may initially find the book more appealing than their own children since the story revolves around dialogue driven humor.
Purchase the book from Amazon: