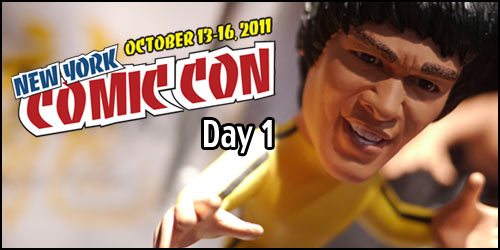 I had gotten my first taste of a Comic Con by just missing the one that took place in San Diego this past July. Seeing the images from the event captivated my attention laying the groundwork for a future trip in 2012. Indeed, I was perfectly content with my plan until a friend of mine mentioned the New York Comic Con that's held every year in the Fall. This commonly known fact had inexplicably escaped me my entire life. "Not again" I thought. I opted to register as a member of the press in order to get a more in depth experience. Today was day 1 of the 2011 New York Comic Con.
My commute to the convention had the undesired addition of acute pain. I had sprained my ankle the night before during a sparring session at Wing Chun class. Normally I would sail through city blocks in Manhattan at a quickened pace. But today was all about hobbling slowly to my destination one pain induced wincing step at a time. Consequently I arrived at the Javits Convention Center full of fury. It didn't help that the convention workers I asked could not accurately direct me to the press registration center. After several time consuming failed attempts, I found the place. I settled into the press lounge feeling drained. I considered firing off a criticism laced Tweet via Twitter on my iPad. Being located in the basement, the WIFI service was essentially non-existent thwarting my attempt at venting to the masses. I had no alternative but to head upstairs to the show floor.
As I gazed upon the sea of humanity engaged in geek popular culture, I couldn't help but grin. I decided to roam around with no particular plan but to take in the sights. I had several first impressions. For example, I was taken aback by the lofty prices of some of the exclusive toys being offered by various companies at the convention. I was also excited to see the latest and greatest products, movie memorabilia, and the sheer variety of vendors exhibiting their wares. In addition, the New York Comic Con had a large video game company presence reminiscent of the Electronic Entertainment Expo also known as E3. And lastly, I was pleased that comic books had not been forgotten in this eclectic multimedia mash up. It turned out to be a good first day after all.
Below are some images from the show. Click on any image to view the entire gallery in a larger size: