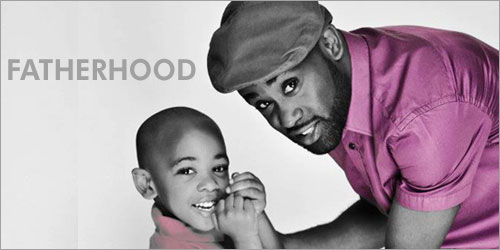 Tray Chaney is a talented artist who's first big break was landing the role of Poot from HBO's critically acclaimed series "The Wire". Tray also happens to be a writer and upcoming rap artist. His latest single titled "Fatherhood", an inspired message for men to be responsible fathers, has struck a chord with men and women alike across the Social Media spectrum. In fact, the music video has the potential to go viral. I decided to reach out to Tray Chaney to interview him about the origin of the song, his thoughts about fatherhood and more.
CM: What inspired you to write the song "Fatherhood"? 
TRAY: What inspired me as a Hip Hop artist to write "Fatherhood" was I wanted to bring a positive image to the issue. A lot of individuals get caught up in the negative images of fathers not being there for their kids. And even though in some cases that may be true, I felt it was time to lift up fathers that are very much involved in their kids lives. And for the ones that may not be, let's encourage them to listen to the song and take heed to the message because at the end of the day, our children are the future no matter what. This song is to uplift the world in a positive way.
CM: Why do you think your song Fatherhood has struck a chord with not only men but women as well?
TRAY: I feel it has struck a chord with women because you see a lot of single mothers out here hustling hard every day to provide for their children and fathers not around. So when the video dropped last week a lot of women could feel the line in the song where I said "Mothers working 2 jobs just so they can feed their child". That's actually saying to women continue to work hard because even though it may seem tough, you are doing a fantastic job and God will make things better. Shout out to all the single mothers around the world!
CM: In one of your "Day in the Life of Tray Chaney" video clips, you mentioned how you missed your son.  How do you balance fatherhood and your work as an artist with all the inevitable peaks and valleys?
TRAY
: Well I definitely make sure no matter what my son knows, I am very much involved in his life. If I'm not at home I make sure we talk every day up until the time I walk back in the door. Malachi is considered a "Daddy's Boy" LOL. That's what my wife says. He understands the type of field I'm in as an entertainer and he's only 5 years old. If there are times he can join me on the road and he doesn't have school, he usually does. But when I'm home I'm very much involved in his school activities…field trips, you name it.
CM: What advice would you offer young men who might resist the idea of being a responsible caring father?
TRAY: Please understand your child is a reflection of you and you are responsible no matter what for the child's well being. I understand at times it can get hard so you have to pray to God and He will give you the strength to understand your values which is your child and honoring your family. Be a hero to your son or daughter.
CM: What's on the horizon in 2012 for Tray Chaney, the artist and father?
TRAY: Wow!! Well, to continue to spread the Fatherhood movement around the world. I have 3 films coming out in 2012. My book "The Truth You Can't Betray" is on Amazon.com and it has been accepted in the Prince George County Library System so I start touring in February to help young people appreciate that they need to read more. I'm planning a tour in support of "Fatherhood" to help promote the positive images of fatherhood. Also "Fatherhood" is on iTunes. As for my son Malachi…just helping him understand that his education is important and setting a positive example for him every day as a man as well as a father.
"Fatherhood" music video
All photo images used for this article credited to SightWorkz.
What do you think of Tray Chaney's song? Leave a comment below.