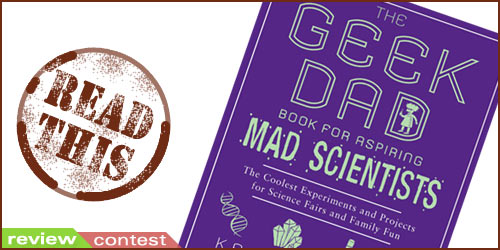 According to the Webster dictionary science is defined as the intellectual and practical activity encompassing the systematic study of the structure and behavior of the physical and natural world through observation and experiment. Mad is defined as insane. Bring these two terms together and you have the potential for crazy experiments. Such is the case for author Ken Denmead's new book "The Geek Dad Book for aspiring Mad Scientists".
The Review
What's the Book about?
In a nutshell, the book is a compilation of "the coolest experiments and projects for science fairs and family fun." Budding young "mad" scientists can partake in activities in subject areas such as Biology, Chemistry, Engineering, Physics and Technology. The scope of the experiments and projects can range in cost, difficulty, and duration (i.e. a few short minutes to several months). In addition, the age range required to participate in certain experiments can vary. Parental supervision as well as the proper safety equipment is required for most if not all projects which ensures family involvement in any given task. In theory, the mad scientist family that works together stays together.
Some Experiments and Projects I found intriguing were the following:
Extracting Your Own DNA
Perform an experiment in which you end up being able to see a strand of stretched out DNA without use of any tools.
Thermodynamics: Keeping It Cool without Electricity
Creating a contraption that keeps food cool without the use of electric power.
Building a MacGyver Radio
Appealing to the engineer who can make something on the fly without use of readily available parts.
Playing with Plasma
Fun with electricity, tesla coils and more resulting in a visually cool light show.
The experiments mentioned above just scratch the surface of what one can accomplish. The author has included several projects that will keep any "mad"scientist coming back for more. The fun of learning science is evident on every page. The Geek Dad book for Aspiring Mad Scientists is an invaluable resource and a wonderful platform to foster interest in Science. Because really, being a mad scientist is fun.
Overall Rating: A-
Recommended for ages 8 and up.
Pros: Offers a wide variety of experiments and projects. Emphasis on fun and safety throughout the book.
Cons: Lack of extensive visual examples to further illustrate certain experiments and projects.
The Giveaway
You can win your own copy of "The Geek Dad book for aspiring Mad Scientists". Just leave a comment below about who's your favorite scientist in real life or the world of fiction (i.e. Einstein, Dr. Frankenstein). One commenter will be chosen at random to win the book.
For an extra entry, please retweet the following via twitter and leave a comment along with your original comment that you've done so:
Win the Geek-tacular Geek Dad Book for Aspiring Mad Scientists via @CuteMonsterDad bit.ly/GTVEE8
You can also obtain an extra entry by "liking" CuteMonster.com and Geek Dad on Facebook and leave a comment along with your original comment that you've done so.
Dates and other important information you should remember:
The contest ends at 11:59 pm EST on Sunday, April 8, 2012. The winner will be notified via email or twitter by Monday April 9, 2012. The winner has 24 hours to respond after notification. If no response is made another winner will be randomly drawn. Good luck!
UPDATE: We have a winner! Congratulations to Sara Petersen! And thanks to the good folks at Penguin Group for providing the prize.