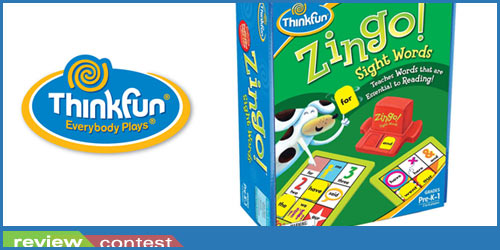 There was a time in my childhood when board games were a fixture. Electronic gizmos didn't come into the forefront for years to come and quite frankly, it didn't matter. Whether playing a board game with my family or my friends, it was always an engaging social experience. The emotions expressed during gameplay ran the gamut ranging from focused intensity to side splitting belly laughs. Flash forward to the present, my life has come full circle as a parent. Despite the pervasiveness of the digital era, it's still board games that bring families together. The latest example, ThinkFun's Zingo! Sight Words.
How do you play the game?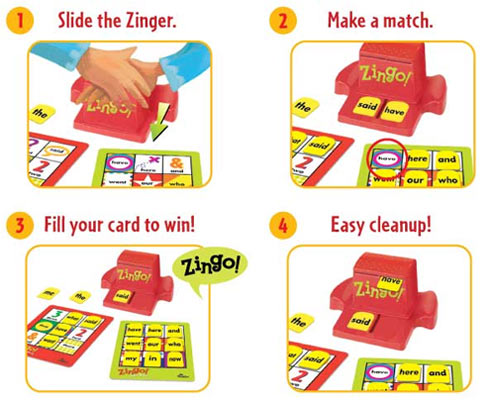 What's the game play experience like?
Educational and fun. Zingo! Sight Words takes the game premise of Bingo, replaces the numbers, and incorporates sight words which are words most frequently used in the English language. Mastering sight words creates fluent readers.
Based on my own official game testers aka my children, Zingo! Sight Words offers up challenging yet accessible game play that encourages older kids to help their younger siblings learn to read. My 1st grader, to my surprise, often helped his kid sister navigate through each of her turns. Especially if he was given the responsibility of being the dealer. Dare I say that Zingo! Sight Words may well be a means to a temporary ceasefire in the sibling rivalry wars. Peace and cooperation through board games. Who knew?
Zingo! Sight Words is recommended for Pre-K to 1st graders.
And Now The Giveaway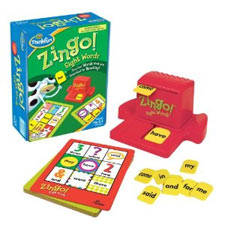 Thinkfun has graciously provided an opportunity for one lucky CuteMonster.com reader to win a Zingo! Sight Words game of their own. A retail value of $19.99.
How to Enter
Simply enter a brief comment below telling us what was your favorite family game as a kid. That's it. A winner will be drawn at random on November 19, 2012.
For extra entries do the following:
* Follow Thinkfun on Facebook
* Follow CuteMonster.com on Facebook
* On Twitter tweet I want to win a @ThinkFun Zingo! Sight Words game from @CuteMonsterDad bit.ly/ZkSdeR
Important Dates and Details to remember
Contest open to U.S. residents. The contest ends at 11:59pm EST on Monday November 19, 2012. The winner will be notified via email or twitter by Tuesday November 20, 2012. The winner has 24 hours to respond after notification. If no response is made another winner will be randomly drawn.
Good luck!
UPDATE: We have a winner! Congratulations to Janet Jenkins. Thanks to everyone who entered. And a big thank you to ThinkFun for providing the prize.