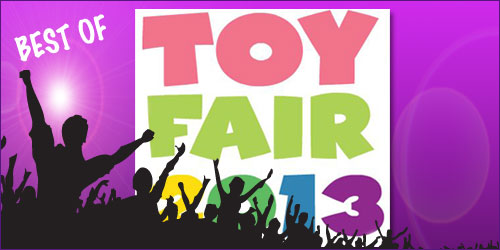 We spent countless hours this year at the 2013 New York Toy Fair walking from aisle to aisle scrutinizing hundreds of the latest and greatest toys. From the toy manufacturing giants such as Mattel to the tiniest independent toy makers, we focused in on the best combinations of innovation and fun. The following list represents what we feel to be the best of show at the 2013 New York Toy Fair.
Best of Show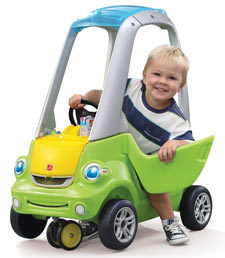 Best Toddler Riding Toy – Step2 Easy Turn Coupe Equipped with a 360 degree turning radius, this little people mover has all the smooth moves your toddler will require for a safe spin around the backyard or playground. According to the Step2 Press Release, "Kids will have a blast maneuvering the toy car through the house, driveway or neighborhood with the mom-approved front wheel feature, which offers additional stability and mobility via 360-degree turning. Featuring a convenient handle for pushing, the sunroof is constructed with extremely durable transparent plastic so that parents can keep an eye on their little one, and little ones can sneak a peak at their parents!" Made in America and designed for durability, the Easy Turn Coupe (MSRP $59.99) is built for kids ages 1.5+ and comes with a three-year warranty.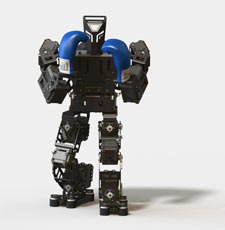 Best Innovative Toy – Cloudrobot
Still in the prototype state these electronic boxing robot marvels allow you to mash it up in person or over the internet. In future updates you'll be able to control the action with your iOS or Android devices. We were so taken aback by the ingenuity involved with this unique blend of hardware and software design, that we featured it as one of our innovation picks in our article "Boxing Robots drop Jaws, Toy Maker Wins Hearts". Be sure to check out the video as well. As of this writing, official pricing has not been set.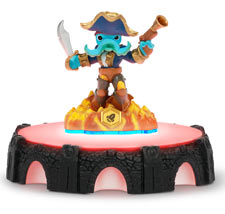 Best Video Game Toy Mashup – Skylanders Swap Force
In just one year's time, Activision's Skylanders has become a formidable video game/toy mashup phenomenon with kids of all ages. Each new Skylander toy release has been met with a frenzied level of demand from buyers. This Fall, Activision will be releasing what they consider to be their next breakthrough innovation, Skylanders Swap Force. According to Activision's press release, "Skylanders SWAP Force lets Portal Masters reconfigure 16 special SWAP Force™ characters into more than 250 unique combinations. Kids can mix and match characters' powers and moves and then bring them to life in the game. In addition to the new SWAP Force characters, the game features 32 core Skylanders characters (16 completely new Skylanders characters and 16 new versions of fan-favorite characters from previous games) and eight new LightCore™ characters." Pretty compelling stuff. We think it will be a huge hit.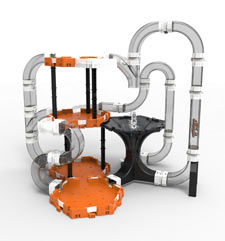 Best Electronic Toy – Hexbug Nano V2
Hexbug's Nano toys continue to evolve with Nano V2. These little bots can climb courtesy of tubes in the new sets being released soon by Hexbug. The sets are backward compatible with previous iterations although the old Nano bots will not be able to climb the tubes like Nano V2. As per Hexbug's official product description "An all-new breed of gravity defying HEXBUG Nanos that can now climb up, vertically, horizontally, around corners, loops and through tubes, to the tip top of any Nano V2 habitat set. Kids can build an infinite variety of environments for their HEXBUG Nano V2 collection, with the Starter Set, Tower Loop, Barrel Roll, Crow's Nest and Black Hole Sets." For ages 3 and up. Available in Fall 2013 with prices ranging from $7.99 to $49.99.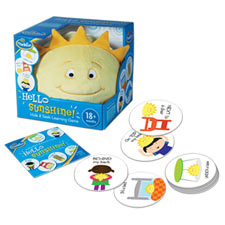 Best Toddler Game – ThinkFun Hello Sunshine!
Following up on the winning success of the fun and engaging Roll & Play, ThinkFun incorporates an element of Hide and Seek with their latest entry into the 18 months to 3 year old game segment. According to ThinkFun's Press Release, "For the first time, hide & seek and plush toys – two toddler favorites – are brightly matched in an active play game. Parents and toddlers take turns hiding and finding Sunshine, a soft, huggable toy. As they excitedly seek Sunshine or hide it with glee, toddlers learn positional concepts such as NEXT to, BEHIND, and ON TOP." Available soon for a retail price of $19.99.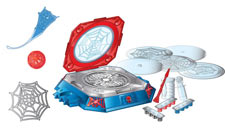 Best Science Toy Uncle Milton's Marvel Science – Spider-Man Web Creator Lab
Combining a kid's love for super heroes with the fun of science, children get to apply scientific techniques much like their favorite super heroes would in the comics. Marvel Science – Spider-Man Web Creator Lab allows your child to be Peter Parker formulating Spidey's webs. According to Uncle Milton's press release "Marvel Science connects Super Hero powers with real science learning using innovative toys that demonstrate and highlight real science principles in a unique Marvel way." The Marvel Science line includes 5 products ranging from $14.99 to $29.99. Ages 6+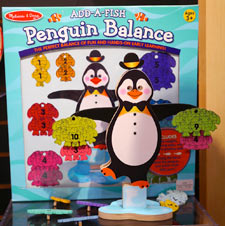 Best Wooden Toy – Melissa and Doug Penguin Balance
From Melissa and Doug's Skill Builders line of toys, the Penguin Balance offers a whimsical blend of learning fun in which your child needs to find the proper balance for this vibrantly painted happy penguin by adding on colorful numbered fish to either side. Ages 3 and up. Check the Melissa and Doug site for availability.
Honorable Mentions: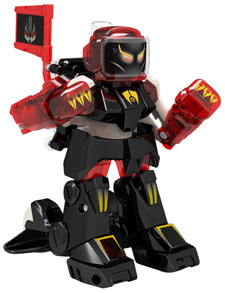 Battleborg by Tomy
What could turn out to be a sleeper hit in the Fall, this robot boxing game combines Nintendo Wii-like Nunchuck motion controllers (watch video) with robot boxing action. Although not nearly as maneuverable as the Cloudrobot boxing robots, these toys provide fun on the same level as the classic Rock'em Sock'em Robots. Tomy's press release states "Perfect for one-on-one competitions or large Battle Royals of up to 10 robots in the 3-in-1 Battle Arena. Whether you're a brawler, a glass jaw or a southpaw, Battroborg promises pure excitement, ultimate battling action and knock-out fun! MSRP: $79.99 sold separately. Ages 8 and up.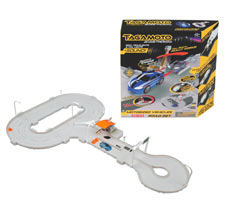 Tagamoto by Innovation First
From the creators of Hexbug robotic miniaturized creatures, Tagamoto offers a new brand of interactive fun with micro-sized cars by combining the motion technology found in the Hexbug Nano line with a new code reading system. According to the Innovation First press release "Tagamoto motorized vehicles have working headlights and taillights, and more than 15 different sounds including engine revving, car horns and sirens that are activated by codes placed strategically on the road. Additionally, each Tagamoto motorized vehicle features three different modes of customizable play: 1) Off Road – No roads required, runs on any smooth surface, press and hold "ON" button for 4 seconds; 2) Roads & Codes – vehicles read & react to codes placed on the road, codes sold separately with playsets; 3) Free Roll – wheels snap down to free wheel for non-motorized creative play." Available this Fall exclusively at Target stores. Prices ranging from $5.99 to $29.99. Ages 4 and up.
What's your favorite? Are you excited about any new toys coming out this year?