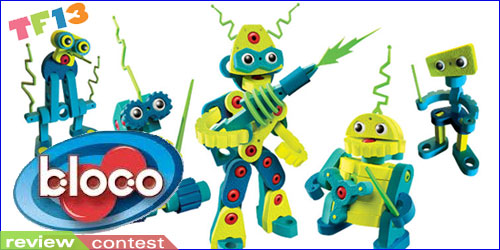 One of the great joys of exploring the myriad of toys being presented at the NY Toy Fair is the opportunity to discover wonderful toys that may still be under the radar for most parents. On the last day of the 2013 NY Toy Fair, most of the toy exhibitors were furiously packing up their wares before the showroom floors were officially closed. But a few independent toy makers were intent on having their merchandise seen up until the very last second. That's how I stumbled upon Bloco Toys.
As I walked past the Bloco Toys Booth, their intriguing colorful construction toys caught my eyes prompting me to stop and make an inquiry. I spoke with Nathalie Barcelo, the Owner/Designer of Bloco Toys, who despite the mayhem of the convention floor around her, was exceptionally nice and gracious. She provided a brief overview of her latest creations as well as how they were constructed. Without hesitation she offered me a choice of one of the new releases to take home to review. Knowing that my 6 year old loves Robots, I opted for Robot Invasion.
The next day my son noticed the Robot Invasion box and with eyes as large as the Sun pleaded that we "open it now Daddy, pleeeease!" Sharing his enthusiasm, I agreed. Inside the box were assorted colored foam sheets containing construction pieces of various shapes and sizes. In addition there were uniquely designed round hard plastic pieces to be used as connectors. More importantly, once my son realized the instructions for construction were merely suggestions, he was on his way to creating his own masterpieces.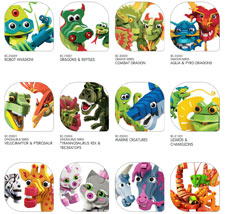 Bloco Toys has developed construction toys sure to spark the imagination of kids of all ages. They're quite easy to assemble and encourage children to unleash their creativity. If there was one negative I could find it would be the need for a container for all of the inevitable loose pieces. We ended up using medium sized plastic resealable storage bags. Perhaps Bloco Toys can come up with a fun container in the near future. In any case, I highly recommend taking a look at their line up of toys. Girls and boys will love them.
And Now the Giveaway
Using the RaffleCopter form below, enter the contest for your chance to win 1 Bloco Toy of your choice. Be sure to visit Blaco Toys Creatures page on their web site to help you decide which is your favorite. Good luck and thanks for entering!