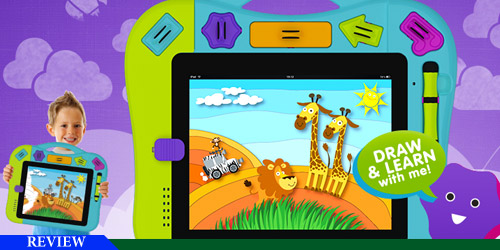 Kids love silly noises. Loud, obnoxious, room filling sounds like burping translate into comedic gold for youngsters . Kids also enjoy to draw, play games, and manipulate interactive tools like electronic devices. It's not surprising they're captivated by iPads which in turn has prompted software developers to produce countless numbers of kids apps. Yet the relatively high cost of the coveted digital device coupled with its fragility does not bode well for handling by kids. One company has conjured up a solution that both provides durability to the iPad as well as interactive gameplay for children. Behold WowWee's ArtSee Studio.
A description from ArtSee Studio's web site:
ArtSee Studio is a visual and innovative drawing kit, which can transform simple drawings and paintings on the iPad into animated games and activities, leaving your kids longing for more! The magical ArtSee adventure begins by securing the iPad 1, iPad 2 or iPad 3 into the protective ArtSee iPad case. The free application is available for download in the App Store. Using the wide range of interactive ArtSee tools, kids can quickly turn a blank canvas into an explosion of the color, sound, movement, games and activities.
Breakdown of the features
Made for the Apple iPad (1st, 2nd, 3rd & 4th Generation)
Easy-Grip Handle
Fun multi-colored Protective Case
Multi-functional stylus
5 interactive tools
Two levels of Difficulty
Create and play with over 75 animated stamp variations
15 roller patterns
3 built-in theme packs
Fun interactive sound effects
Games such as Connect the dots, Symmetry, Memory games, etc.
60 challenging activities in 5 unique games
Over 15 coloring pages
Potential for additional functionality and gameplay via app updates
Ability to share artwork via Facebook, Twitter or email
Test Results
After several weeks of testing the ArtSee Studio it became clear that much like art, the intrinsic gameplay was based on the eye of the beholder. My 4 year old quickly took to drawing pictures with the stylus (Doodlee), then choosing a theme with the game tool (Funnee), placing assorted animals and vehicles on to the pictures with the stamp tool (Stampee) followed immediately by the sound tool (melodee) placed on the images to see them come to life with animation and silly sounds. Her resulting belly laughs were well worth the effort in my opinion.
My 6 year old on the other hand, immediately jumped into playing the assorted game challenges. He quickly tired of them though as he found most to be too easy despite the app being in advanced mode via the parental controls. He also made use of the coloring pages and freestyle blank drawing pages. He quickly became frustrated at the inability to draw and color in layers in a compositing style. The stamp tool and animation tool were big hits as was the fun sounds creating sound tool. Much like my 4 year old, the ability to animate images and then make them emit huge burping noises as well as other noisy bodily functions proved to be irresistible.
Overall Score: B+
Recommended for ages 3 and up.
Pros: Fun Protective case works swimmingly. Kids enjoy the versatility of game play which fits them best. Tremendous potential for expanded capabilities via app updates and purchases.
Cons: Needs more depth in game play. Assorted tools don't always immediately produce desired results causing kids to be more forceful than needed to obtain them.
More Information:
ArtSee Studio From WowWee (MSRP $39.95)
Compatible with all iPads (running IOS 5 and above)
The ArtSee Studio is packaged with: 1 ArtSee Studio Case, 5 ArtSee Studio Tools, 1 stylus and 1 User manual.
Note: The free App to run ArtSee Studio must be downloaded from iTunes.