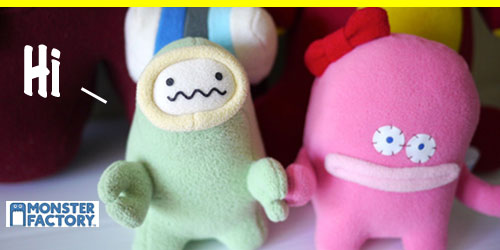 Meet Pax and Clementine, the latest plush dolls from Monster Factory's new collectable Mini Monster series. I first came across the Monster Factory line of Mini Monsters at the 2013 New York Toy Fair earlier this year. I reached out to the good folks at Monster Factory to review a pair of Mini Monsters, namely Clementine and Pax, since I wanted to gauge what the reaction would be from both girls and boys.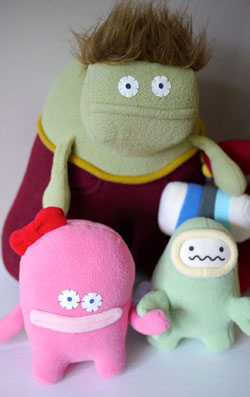 For this review, I opted to make use of the most meticulous toy testers on the planet…my children. Their ability to instantly judge a toy to be a failure or a success has become the stuff of legends in my humble abode. Besides, they're Monster Factory veterans currently being the proud owners of Rosco and Andy.
Upon opening the delivery box containing Clementine and Pax, my kids' eyes lit up. "Oooh, they're so small!" "Aw, they're so cuuute!" My daughter fancied Clementine and my son snatched up Pax including the little guy in an adventure with his other "super cool" toys. After awhile, I had the chance to inspect the plush dolls myself. The Mini Monsters are of the same high build quality one expects from Monster Factory. The Mini Monsters possess a whimsical design which is both unique and engaging. It's not hard to imagine the Mini Monsters series becoming collectables with their tremendous appeal to kids of all ages.
How to Win Your Own Monster Factory Monster Mini
Thanks to the good folks at Monster Factory, you can win your own Monster Factory Mini Monster. Just fill out the Rafflecopter entry form below for your chance to win your choice of either Monster Factory Mini Monster Clementine or Pax. Good luck!
Disclosure: Monster Factory provided CuteMonster.com with two Monster Minis, Clementine and Pax, to review free of charge. All opinions are that of the reviewer.