Toy car maker RIDEMAKERZ recently contacted me to review their Chevrolet Corvette C6RS – Special Edition – BCRF. Given that RIDEMAKERZ will be opening up a store within a store this Fall at FAO Schwarz in New York City, I was intrigued to get a first hand look at one of their toy cars. They have a similar business model to Build – it- Yourself stores in which a customer can choose different styles, parts, etc. in millions of combinations to create the cool car ride of their dreams. Factor in that RIDEMAKERZ generously offered to giveaway a Chevrolet Corvette C6RS – Special Edition – BCRF to one of our readers and that this limited edition car will support the Breast Cancer Research Foundation, I welcomed the opportunity.
The RIDEMAKERZ website states:
During the month of October, Ridemakerz will donate $8 to the Breast Cancer Research Foundation for each Special Edition Corvette purchased! This Special Edition RIDE features a custom pink pant job for Breast Cancer Awareness month. Available while supplies last.
But how good is this toy car?
The BUILD-AT-HOME RIDE Chevrolet Corvette C6RS I was sent included a Freewheel Street Chassis, 4 Tires, 4 Rims, working headlights & taillights, RZ Mix RideSOUNDZ™ and an upgrade to a Radio Control car. Special hot pink paint and styling cues solidify the visual appeal of an already sleek ride.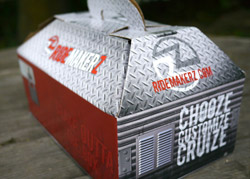 Set up of the car was simple. Just take the efficiently bubble wrapped car, RC controller, and Do-it-Yourself tool out of race car themed toolset box, switch the car and RC controller on and to the same frequency channel, and you're good to go. There's a handy manual included as well but for most the control scheme will be fairly intuitive. My official staff tester aka my 7yo son was able to start his racing adventures almost immediately. He got a kick out of the RZ Mix RideSOUNDZ™ which when pressed plays a raucously fun tune while revving the engine and causing the headlights and taillights to flicker to the beat.
The RC controller has a decent range. There was never a sense of a delayed response from the radio controlled Chevrolet Corvette C6RS. The turning radius was tight, handling was sharp as well as controlled. In addition, straight line acceleration performance was speedy enough to evoke a smile from yours truly. My only minor quibble would be the car's tendency to continue to roll when coming to a stop. I'd recommend playing outdoors with the vehicle rather than indoors to avoid unintentional collisions. Battery life has been above average to date which bodes well for continued play and interest in the vehicle.
Overall Grade: A-
Recommended for kids ages 5 and up.
Pros: Great styling, quality build, long lasting battery life, huge fun factor.
Cons: Car doesn't stop on a dime.
YOU CAN WIN ONE!
That's right. You have the chance to win the RIDEMAKERZ Chevrolet Corvette C6RS – Special Edition – BCRF with Radio Control. Just fill out the Rafflecopter entry form below. Good luck. And even if you don't win, consider purchasing one for someone special. It's a great cause and a fun toy.
Watch the Video below of our testing the RIDEMAKERZ Chevrolet Corvette C6R:
Full Disclosure:: CuteMonster.com was sent the RIDEMAKERZ Chevrolet Corvette to review in exchange for the product. Opinions about the product are completely those of the reviewer.