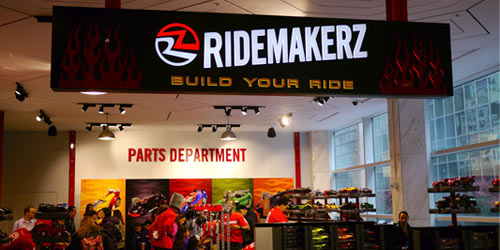 I was first contacted by RIDEMAKERZ, makers of custom designed toy cars kids can build, about a promotion to support the Breast Cancer Research Foundation. A generous portion of the proceeds from the sale of the radio controlled Chevrolet Corvette C6RS – Special Edition would go directly to help fund the cause. We reviewed the car and gave away one vehicle to a lucky CuteMonster.com reader. Late in October I received an invitation to attend the Grand Opening press event of the RIDEMAKERZ store-within-a-store debut at FAO Schwarz in New York City. Adding to the excitement was the chance to bring my whole family to build and keep our own RIDEMAKERZ rides. Clearly it was an offer I couldn't refuse. Little did I realize the best surprise awaited us.
The invitation had stated we needed to arrive by 7:15am to be available for local news station WPIX who planned to cover the grand opening. Disrupting the fabric of the universe, we somehow managed to arrive on time. In fact, I believe my family was the first in New York City to enter the new RIDEMAKERZ store in all its visually striking factory fresh glory. We were greeted by friendly staff and executives alike. There was a palpable energy filling the space which made this kid at heart grin thinking "this is so cool."
Without missing a beat, the RIDEMAKERZ NYC store manager, Diana, swept in to take my kids and I through the design and build process. As she enthusiastically guided us from station to station, it was clear Diana loved her job. The kids were instantly engaged and felt empowered to make their own choices on how they wanted to customize their vehicles.
As the day progressed I came to the realization RIDEMAKERZ was much more than simply toy cars and trucks. It's about engagement, working together, developing motor skills, design appreciation and most importantly, building lifelong memories. In a world that's become increasingly fast paced, the RIDEMAKERZ in-store experience gives families the chance to slow down.
NYC location:
RIDEMAKERZ®
Inside FAO Schwarz
767 5th Avenue @ 58th St
New York, NY 10153
Telephone: (212) 759-4869
Watch highlights from our visit to the RIDEMAKERZ Grand Opening: